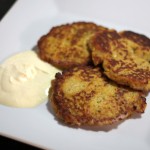 | | | |
| --- | --- | --- |
| Chicken Cakes with Lemon Ginger Sour Cream | | |
Author:
This is a great use of leftover cooked chicken!
Ingredients
1 onion, roughly chopped
1 clove of garlic, roughly chopped
1 bell pepper, roughly chopped
2 1/2 cups leftover chicken, cut or shredded into pieces
1/4 cup flat-leaf parsley
1/2 cup dry breadcrumbs
1/4 cup arrowroot powder
2 eggs
1 cup sour cream
Salt and Pepper
Extra Virgin Olive Oil and/or additional frying fat such as butter, chicken or beef fat
For Cream:
1 cup sour cream
zest and juice of ½ lemon
1 teaspoon fresh ginger (1/4 teaspoon dry powdered ginger)
1 teaspoon garlic powder
Instructions
Place onion, garlic, pepper, parsley, breadcrumbs, and arrowroot powder in a food processor. Pulse until finely chopped and incorporated. Add chicken and pulse a few times, until chicken is roughly chopped and incorporated into mixture. Add eggs and sour cream and liberally season with salt and pepper. Pulse food processor until mixture is evenly mixed. Heat ½ inch of frying fat in large skillet over medium-high heat. Form chicken mixture into patties and fry for 3-4 minutes per side, until golden brown.
For cream, whisk ingredients in medium bowl until smooth. Serve cream as a dip for chicken cakes.