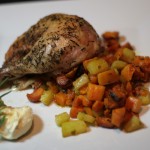 This recipe is made more than any other recipe in my kitchen.  One of my favorite foods in the world is salty, crispy chicken skin.  It's definitely a bummer when I eat a chicken with less-than-crispy skin.  When you butterfly the chicken and roast at a high temperature at first, you get a fabulous chicken skin result without over-cooking the meat.  I also never cut the backbone out of my chicken because the best skin and meat is on the backbone.  Finally, some real, raw, cultured sour cream eaten alongside the chicken and potatoes will offer some good enzyme activity to this fully cooked meal.  Enjoy! 
| | | |
| --- | --- | --- |
| Roasted Herbed Chicken with Sweet and Golden Potatoes | | |
Author:
Total time:
1 hour 20 mins
Ingredients
1 whole chicken
Extra Virgin Olive Oil
Salt and Pepper
1 tablespoon Herbs de Provence
3-5 medium-sized sweet potatoes and/or golden potatoes
1/2 cup butter
2-3 cloves of garlic, minced
1 tablespoon finely chopped fresh herbs such as thyme, sage, and/or rosemary
Sour cream (optional)
Instructions
Preheat oven to 425°.
Butterfly chicken with sharp kitchen shears and lay in large roasting pan, breast-side up. Drizzle liberally with oil, then season well with salt and pepper. Sprinkle evenly with herbs. Place in oven for 20 minutes, then reduce oven temperature to 365°.
Once chicken is in oven, prepare potatoes by chopping into ½-inch cubes and placing in a roasting pan. Melt butter over low heat and sauté garlic for one minute. Pour garlic butter over potatoes and season to taste with salt and pepper (about 1 teaspoon salt and ½ teaspoon pepper). Add chopped herbs and toss potatoes until they are well coated with butter and seasonings. Add potatoes to oven when heat is reduced to 365°.
Continue roasting chicken and potatoes for 50-60 minutes, tossing potatoes every 15 minutes, until chicken skin is crispy and golden brown, and potatoes are soft and slightly caramelized. (You may wish to add some of the cooking liquid from the chicken to the potatoes while roasting.) Slice chicken pieces and serve with potatoes and sour cream (optional).