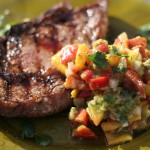 | | | |
| --- | --- | --- |
| Grilled Steak with Fruity Salsa Fresca | | |
Author:
Ingredients
Rib-Eye steak (about 6 oz. per adult)
Extra Virgin Olive Oil
Salt and Pepper
Garlic Powder
For Salsa:
1-2 avocados
2 large tomatoes
1 bell pepper
1 mango
2 cups watermelon cut into small cubes (optional)
cup onion, finely chopped
1 garlic clove, finely minced
2 tablespoons cilantro, finely chopped
zest and juice of ½ lime
Salt and Pepper
2 tablespoons Extra Virgin Olive Oil
Instructions
Preheat outdoor grill (or wait to heat indoor grill or skillet before cooking if cooking inside). Bring steak to room temperature, drizzle both sides of steak with oil then liberally season with oil, salt, pepper, and garlic powder. Grill steak on both sides for 4-8 minutes, depending on thickness and desired doneness. Let steak rest for 5 minutes before serving.
For salsa, chop avocado, tomatoes, bell pepper, and mango into small cubes and place in large bowl. (To cut mango, slice large halves lengthwise along both sides of the large center seed, then cut two final strips off remaining sides of seed. Hold mango halves in one hand and carefully cut a grid of squares in mango. Press rounded side of mango inside-out and carefully slice off the small cubes of fruit.) Add watermelon, onion, garlic, cilantro, and lime. Season with salt and pepper, to taste, and drizzle oil over mixture. Gently toss until salsa is evenly mixed and incorporated. Serve salsa with steak.