I can't believe it. I have four children.
People are already asking me if we are "done". Through my entire pregnancy I knew I definitely didn't want more kids after this one. I would tell people it was "number last". But surprisingly my answer is "probably". My husband's answer is a firm and very quick "Yes, we're done!".
The birth of this fourth child (and first son!) was so amazing and he as been so easy and unbelievably sweet that I definitely can imagine doing this again. Actually I can't imagine that this is the LAST time I get to experience it all. I've truly been enjoying every minute of this baby!
The baby co-sleeps with us and has slept through the night since birth…squirming and grunting a couple times during the night which wakes me enough to nurse him while laying down and then we all fall back asleep. He's very easy to keep calm and is almost always content, even when constantly smothered and mothered by his sisters. It's too easy! I have to remind myself how much I did not enjoy being pregnant, or how crazy and difficult it is to raise children…no matter how "easy" they are or how long we've been doing this!
For now, this is it! I'm savoring every sweet, soft baby head cuddle, goofy grunting noise and explosive poop!
It could be the new baby, or the cooling weather that reminds me of impeding winter (aka hibernation), that has taken my "nesting" to a whole new level. Before the baby came I shared a "pilot" post for the new blog series I'm working on called "Project Simplicity". I'm excited to start sharing more for this series! Right now I'm overly eager to take on every clean-out or fix-up project we have around here…and there are a LOT of them!
I'm also overly eager in my life planning and goal-setting. We've got homeschool up and running for the new year. Did you see our post with free planning and record keeping template downloads? I've got new weekly publishing goals for my blog and social media pages (Instagram/Facebook/Pinterest). We're launching new weekly health classes online for our grō Wellness website. I'm hoping to start recording our "REAL Family" Podcast with Kathleen again, too! 
I've got personal life goals, too, including regular journaling. I've had a couple different journals going for years now, including a prayer journal and individual "letters to you" journals for each of my kids. (I really should write one for my husband, too.) I'd love to start organizing photos and videos and get some albums printed and DVDs put together. How many thousands of photos do you have unorganized on your computer?!
I'm horrible at things like scrapbooking or keeping up baby books! It's so sad…my oldest kid has a pretty well kept baby book recording her first year, but nothing after that. The second kid has a couple pages filled out from her first couple weeks of life. The third has a book with her name written on it. I've got nothing for baby #4 yet. #momfail. One day my children will understand and be forgiving if they have kids of their own. I hope.
I have kept a note on my phone documenting some of the funny or memorable things my kids have said over the past couple years- in the car, at bedtime, or any other random times. (Go mom! At least I did something.) I just bought a new little journal book for all the kids' quotes so I can at least jot quotes down when they happen. I love this little thing! I'm keeping it out on a living room bookshelf for easy access (which says a lot since I'm keeping "stuff" to a minimum, especially on shelves).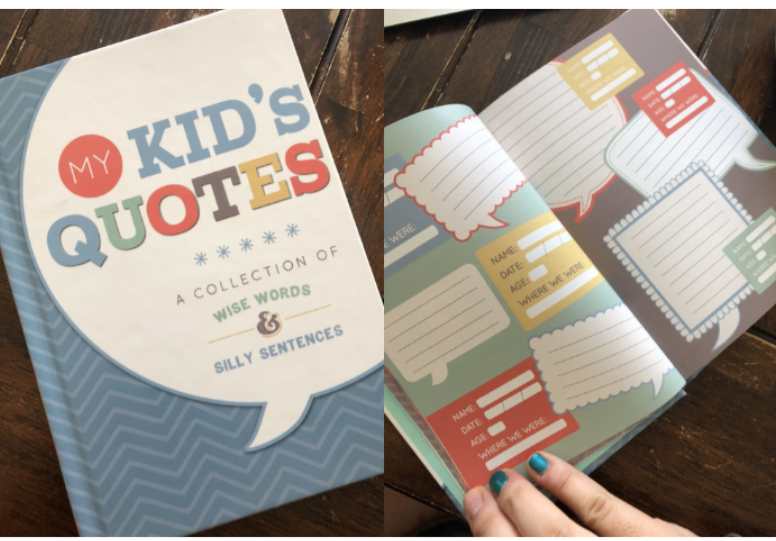 I just finished filling in some old quotes I had on my phone. I'm excited to keep these fond memories in a more permanent place where we can take a look at the memories more often. Nothing warms my heart like old photos, videos or journal entries…including this gem:
In the car daddy started to say "We should find a way to…" and Charlotte interjects, "Stop the wedgies!" 
These kids. They grow up too fast! What hilarious things have your kids said??