"Happy Father's Day! We made you some Caramelized Cinnamon Coffee Bacon Waffles." – said you and the kids on Father's Day morn.
You know it's going to be a good day.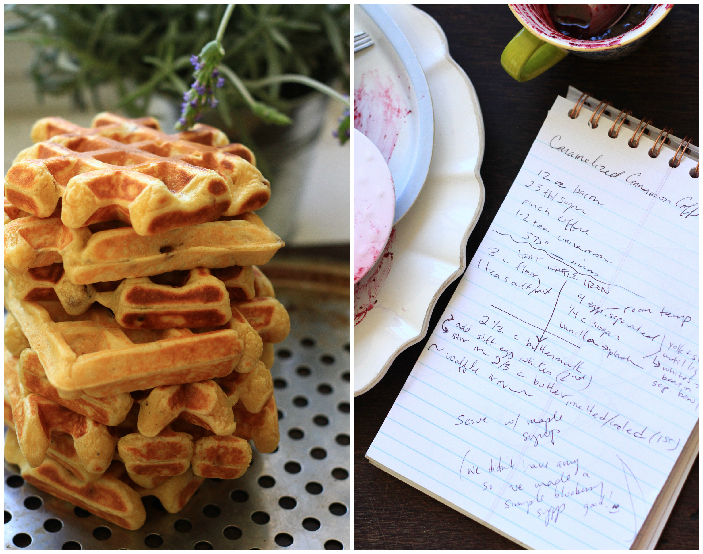 Dear Dad,
I am your biggest fan. You are like Santa Claus and Jesus mixed together. You are full of joy, full of love, and the most generous person in the world. You give your heart and soul to those you love and I know you will always be there- no matter what. Through your teaching and example, you and mom have led me to a deep relationship with the Lord and for that I will be eternally grateful. You are the most talented musician on the planet- but your music is something that is so obviously from God. Sometimes I think I've glimpsed heaven when I listen to you just play out to the Lord as an act of worship. Thank you for being the best grandfather in the world. You are cherished by your granddaughters and you will drop everything to be with them. I couldn't have asked for a better Papa for my children. You are a gift to me, to my kids, to this world, and to God. I love you!
Dear Brendan, my husband,
It's one thing to be the most wonderful husband in the world, but you are the most incredible dad. You thought you couldn't do it, but God has made you the most loving spiritual leader a wife and mom could ask for. Watching you father our girls helps me understand how Christ loves His children…it's incredible. You are a father on his knees before the Lord every day, which gives you the power to face the highs and lows of every day with grace, humility, honesty, sacrifice, and an extraordinary love that has no earthly explanation. Thank you for your commitment to our family. I love you. We love you!
Okay, let's wipe our tears and get to the recipe.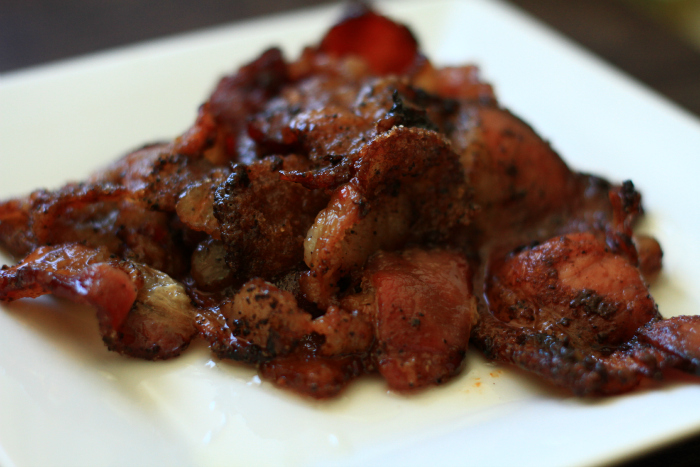 Caramelized Cinnamon Coffee Bacon Waffles
Get out your waffle iron and heat it according to the manufacturer's instructions. Preheat your oven to 375°F. Melt the butter and let it cool.
Ingredients:
12 ounces of bacon
2-3 tablespoons sugar
1-2 teaspoons finely ground coffee
1-2 teaspoons ground cinnamon
3 cups flour (I use Einkorn flour from Jovial Foods)
1 teaspoon salt
4 eggs, separated
1/4 cup sugar
1-2 teaspoons vanilla extract
2 1/2 cups buttermilk
2/3 cup butter, melted and cooled
real maple syrup and/or other fruit syrup for serving
Lay the bacon out in a large baking dish and sprinkle with sugar, coffee and cinnamon. Bake in the preheated oven for 10-15 minutes, until the bacon is crispy and the sugar has caramelized all over it. (You'll just know.) Remove the bacon and let it cool in the pan. (Paper towels will stick like mad. Resist the temptation and just enjoy the extra grease.) When the bacon is cool, chop it into a pile of small pieces.
Whisk flour and salt in a large bowl. In a separate bowl, whisk the egg yolks with sugar until they are light and fluffy. Whisk in the vanilla extract for another 30 seconds. Stir the flour mixture into this egg yolk mixture, then stir in the buttermilk until all the ingredients are incorporated together. (Do not over-mix.)
Stir the melted butter into the batter until incorporated.
In a third bowl, beat the egg whites using a strong arm or electric mixer until stiff peaks form (see picture). Gently fold the whites into the batter, cutting through the center of the bowl then folding the batter over from the outside edge of the bowl to the other side. (I'm not sure if that makes sense…just don't over stir it.) It's okay if the whites aren't fully blended into the batter, as long as they are evenly incorporated throughout the batter.
Finally, gently stir the bacon pieces into the batter. Scoop the batter onto the waffle iron and bake according to the waffle iron instructions. Serve the waffles with real maple syrup or a simple homemade fruit syrup as I did in these pictures. (We simply simmered blueberries with a little water and some sugar and honey, mashing the berries until a nice syrup formed.)
*I like to have my oven set to 200°F so I can keep my cooked waffles warm while I bake them all before serving.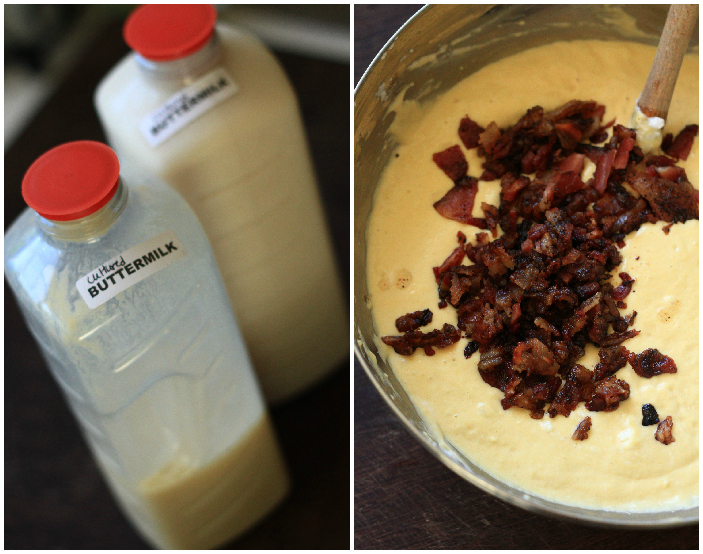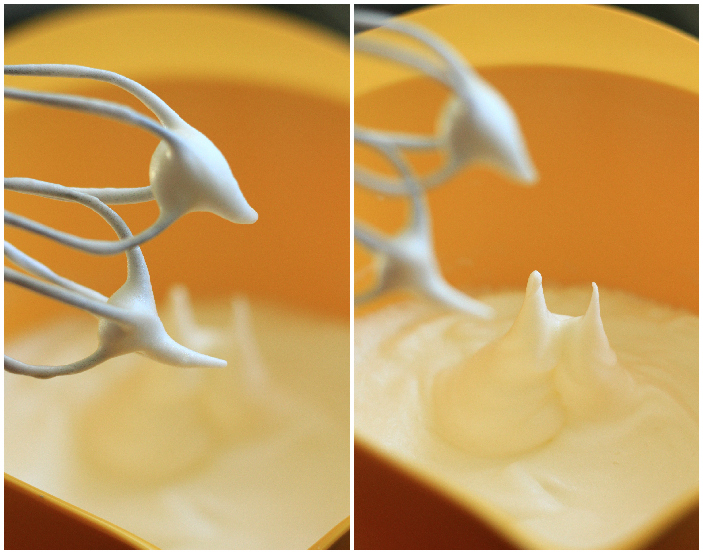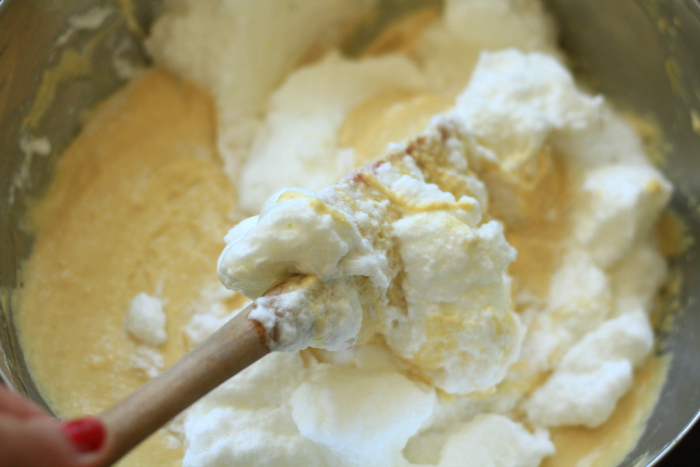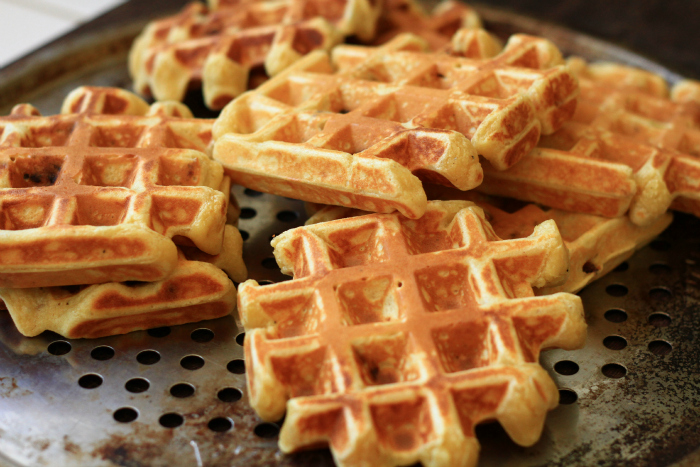 Enjoy!