It's Change #6 in our 12 Steps to Change Everything series:
Eat 5 Veggies Every Day
We all know we are supposed to eat more vegetables, so I don't wish to pontificate on this one too much except to offer some fabulous recipes and resources for you in this post!
The truth is there is a lot to pontificate on if I wanted to go into depth on the micronutrient values of different vegetables or how incredibly important it is to opt for organic vegetables instead of conventional. When you don't choose organic, you're most likely getting a hefty dose of toxic pesticides and genetically modified foods that have been developed to contain pesticides in the DNA of the plant! You can spend some time researching non-organic and GMO food on your own…it's important. I just don't want to go there today. Maybe later in our series.
Let's focus on the positive: why and how to eat nutrient-rich veggies every day!
5 Veggies: Why and How
Plenty of folks understand that eating vegetables and they might try to get their "7-10 daily fruits and vegetables" by eating 7-10 servings of kale for dinner.
Let's face it, there's only a small percentage of humanity that would ever find delight in eating 7-10 servings of kale for dinner. I don't necessarily think that person has an educated concept of "healthy" anyway.
It's important to eat an array of different vegetables with different colors, flavors and textures for two main reasons:
It makes the act of eating much more interesting and enjoyable
You'll get many different essential micronutrients from the diversity of plants on your plate
How to get those 5 Veggies in every day
In our house, "5 Veggies" is on our list of foods to eat every day, which is what we outline on our free "Real Food Cheat Sheet" download. It's not that easy to achieve every single day, and we aren't perfect, but here are some recipe ideas and links to help you. (Make sure to see our "insurance" supplement for vegetables and fruit after the recipes.)
Real Food Family Recipes
Sprouted Kitchen Recipes
Sprouted Kitchen's author, Sara, is a personal friend of mine and one of my favorite food bloggers, especially for vegetable ideas!
Check out Sprouted Kitchen's two insanely gorgeous cookbooks, too!
Our "Insurance" Supplement for Vegetables and Fruits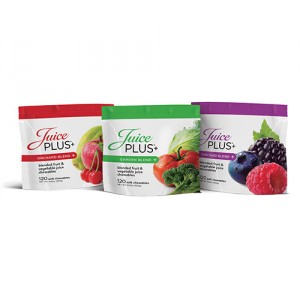 My family has taken Juice Plus+ for years and love it. This is a convenient way to add a wide range of real vegetable and fruit nutrition to your daily diet, which means hundreds of beneficial phytonutrients like vitamins, minerals and anti-oxidants. Most people simply cannot and do not eat the recommended amounts of fruits and vegetables every day. Juice Plus+ basically takes 17 vegetables, fruits and a small amount of gluten-free grains (oat and brown rice- adding fiber which is needed to absorb the plant nutrition), and dehydrates them slowly at a temperature that maintains their enzymatic properties, then encapsulates the whole food powder that remains after all the water is removed. Juice Plus+ has an impressive list of clinical research to back up their product.
I'm mostly impressed with the data showing the absorption rate and beneficial results from the anti-oxidants in Juice Plus+…something that most anti-oxidant supplements have a hard time proving. Our family has personally enjoyed stronger immunity, better skin, hair and nails, and a noticeable increase in our desire to eat more fresh vegetables and fruit and drink more water (especially the kids). We all take the Juice Plus+ chewables, which are basically like little "vitamin treats" that the kids especially love, even though they don't contain very much added sugar. For an extra dose of anti-oxidants, I also take the "Vinyard Blend" which is a potent blend of berries like including blueberries, raspberries, blackberries, bilberries, and elderberries. Learn more about Juice Plus+ here, and feel free to contact me more about it if you are seriously interested in getting Juice Plus+ for your family…I would be happy to personally help you!
Enjoy your veggies! 
No, seriously, enjoy them! I have found that developing an understanding and love for the intricate flavors of different vegetables is a beautiful part of enjoying this beautiful world created for us! Discovering how to optimally grow, prepare and serve vegetables is such a rewarding practice. Exploring vegetables is like learning about paint and color- the versatility and possibilities are endless.
I tend to favor French cuisine, so if you're an interested home cook you'll find plenty of "developmental research" in the classic Julia Child book, Mastering the Art of French Cooking.
Finally, two other favorites are The Vegetable Butcher and Plenty…essential additions for your cookbook library!
Buon Appetite!