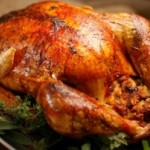 Garlic and Herb Roasted Turkey
1, 10-14 pound turkey
½ cup butter
4-6 tablespoons Garlic and Herb Puree:
– 2 cups finely chopped herbs, such as basil, rosemary, and sage
– 4-5 cloves of garlic
– 2 teaspoons salt
– 1 teaspoon pepper
– ¼ cup extra virgin olive oil
Puree ingredients in a food processor until smooth
Salt and pepper
Chicken Stock
Kitchen Twine
Preheat oven to 450°F.
Place turkey, breast side up, in roasting pan on a roasting rack. (Place neck and giblets in a pot of simmering water to make stock for other recipes.) Fill inside cavity with "Holiday Stuffing" (below), if desired. Rub turkey evenly with butter and Garlic and Herb Puree. Tie bottom of legs together with kitchen twine, after tucking tail piece under legs. Sprinkle with additional salt and pepper, and pour 1-2 cups of chicken stock in bottom of roasting pan. Place in oven for 30 minutes, then reduce heat to 350° and continue roasting for about 1 hour for every 5 pounds of meat, basting with cooking liquid every 30-45 minutes, and making sure that the bottom of pan has liquid at all times. If outside gets too dark too quickly, cover with aluminum foil while cooking. Turkey is done when skin is dark brown and crispy, and internal temperature of breast meat reads about 160°F with a meat thermometer. Let set for 20-30 minutes before slicing to serve.
Holiday Stuffing
4 cups dry bread, cut into small cubes
1 cup dry bread crumbs
2 cups apples, chopped
2 cups onion, chopped
Additional options:
dried cranberries or raisons
nuts
chopped celery and/or carrots
chopped sausage
mushrooms
Garlic and Herb Puree (above)
2 eggs
salt and pepper
butter
Parmesan cheese (optional)
Toss bread, bread crumbs, apples, onions, and additional options (if desired) in a large bowl. Whisk Garlic and Herb Puree and eggs in a bowl and stir into bread mixture. Add a small amount of additional salt and pepper. Scoop stuffing into turkey cavity and cook with turkey, or place in a buttered baking dish and top with freshly grated Parmesan cheese and bake in a 350°F oven for 30-45 minutes, until beginning to brown. Serve immediately.