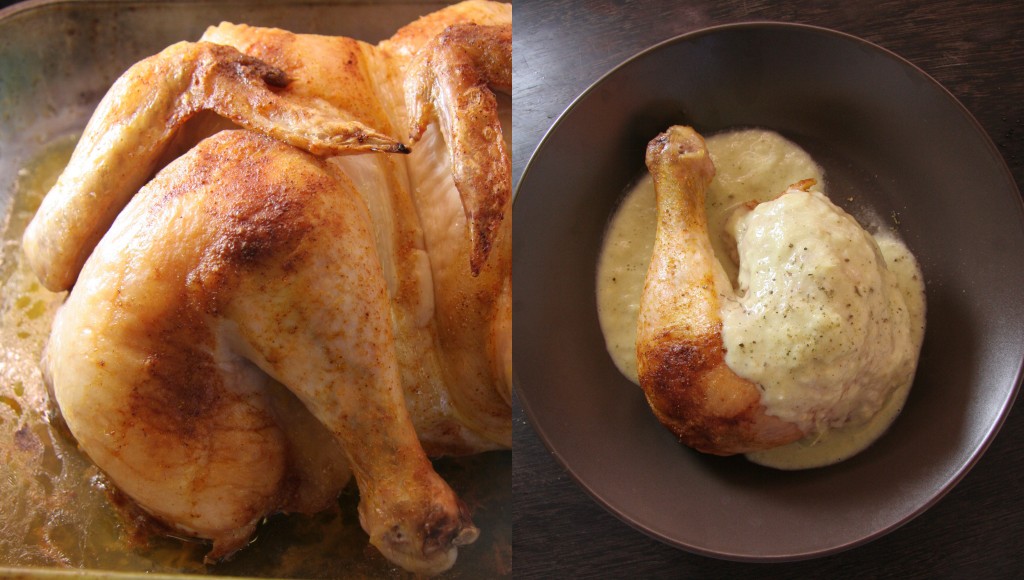 Total Time: 1 hour, 15 minutes
*Tomatillos are widely available in most grocery stores or Latin markets.  If you can't find tomatillos, use green tomatoes or very firm tomatoes.
Ingredients:
1 roasting chicken
extra virgin olive oil
Homemade Seasoned Salt (sea salt, pepper, sweet paprika, garlic powder) or store-bought
1 onion, roughly chopped
4 cloves of garlic
6-8 tomatillos, roughly chopped
1 handful of cilantro leaves
1 cup sour cream
salt and pepper
Preheat oven to 425°F.
Using sharp kitchen shears, cut along the side of the chicken's backbone to separate.  Jab the end of the shears about ½ inch from the top of the breast bone to cut a ½ inch slit.  Place chicken, breast side up, in a large baking dish and firmly press to flatten.  Coat with olive oil and seasoned salt.  Place in oven for 15-20 minutes, then reduce heat to 365°F for about 45 minutes, until chicken is golden brown and fully cooked (juices run clear when sliced).
Meanwhile, bring a stockpot of water to a rolling boil and season with a small handful of salt.  Boil onion, garlic and tomatillos for 5 minutes, until slightly softened.  Use a slotted spoon to transfer vegetables to a blender.  Add cilantro to vegetables, then puree until smooth.  Add sour cream and puree again until smooth.  Season as needed with salt and pepper, then serve liberally over pieces of roasted chicken.