The official first day of fall this year is September 22, but I'm am SO ready for the cooler weather, awesome fall produce, and the many holidays! Fall is my favorite season, so I'm sure you'll get an ode to Autumn when its inauguration comes.  Even though we aren't officially in fall, school has started, so I thought I'd throw up a quick post summarizing our homestead events from this summer!
As you know, our summer began with a lovely trip up the coast of CA.  We brought two lovely goat kids home and one of them sadly died, which was absolutely horrible.  We still have Daisy, but she is alone while we wait to set things up so we can get more goats.  I am determined to have a goat dairy setup here within a month!!!
Our crazy Australian Shepherd puppy, Reece, killed and partially ate at least 4 chickens, and the neighbor's dog got a few of the chickens that had jumped the fence. PLEASE help us figure out what to do about Reece! Comment about your experience in this area.  She has figured out every way to get into the chicken yard. If I have any advice for future homesteaders out there, it is to expect that most of your expenses will be for good fencing and housing for your animals! My mom doesn't want to hear about the farm anymore because she thinks it's just a death trap. It really isn't, but you do have to deal with the various life cycles of nature- learning from every failure!
We've hatched around 30 chicks in our incubator since May, which is SO much fun for the kids.  Of course some chicks turn out to be roosters, and here is our youngest chick-turned-rooster.  Isn't he cool?!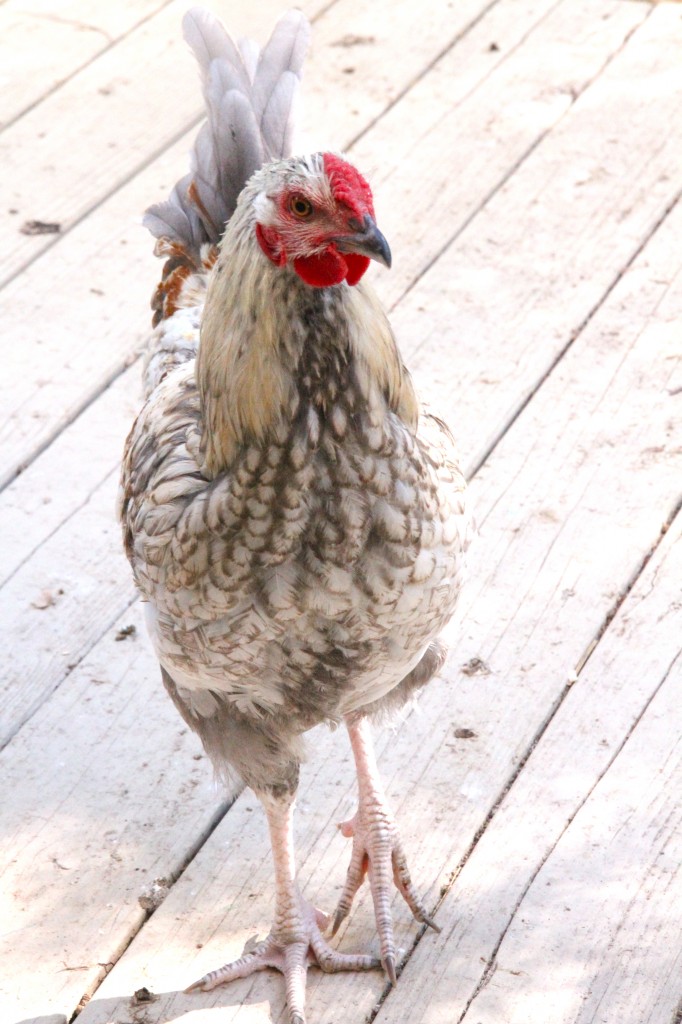 He just started a pathetic little crow, too.  It's hilarious.  I just love roosters.  You totally get used to the morning crowing and their antics are so entertaining. I'm working on getting some good footage of all the different "rooster dances" that they do to "manage" to their hens.
By the way, incubating eggs is very simple.  We collect our lovely eggs, most of which I know are fertilized because when we crack our eggs in the kitchen they almost always have the little white bullseye on the yolk.  We set the incubator on the right temperature (99.5) and fill the little trays with water and let the eggs sit for 21 days- rotating them twice per day.  At two weeks I candle them to see what's inside, making sure there is a chick embryo.  On day 21 they pip, zip and hatch! It's so cute!!  Here are some of our eggs, including duck eggs (shiny white ones with scratches and dirt on them).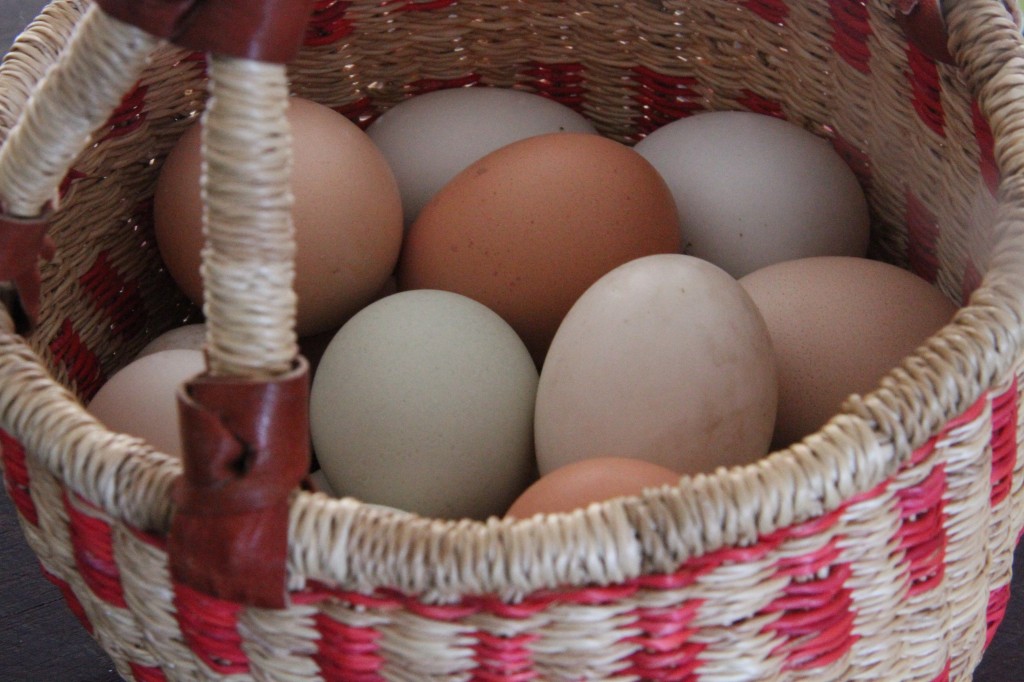 I've been trying to spend quality one-on-one time with my older daughter while the baby is napping.  Here we had a quick lunch tea party where we pretended to be a queen and princess.  This was not only fun but a great chance to teach my little princess proper etiquette.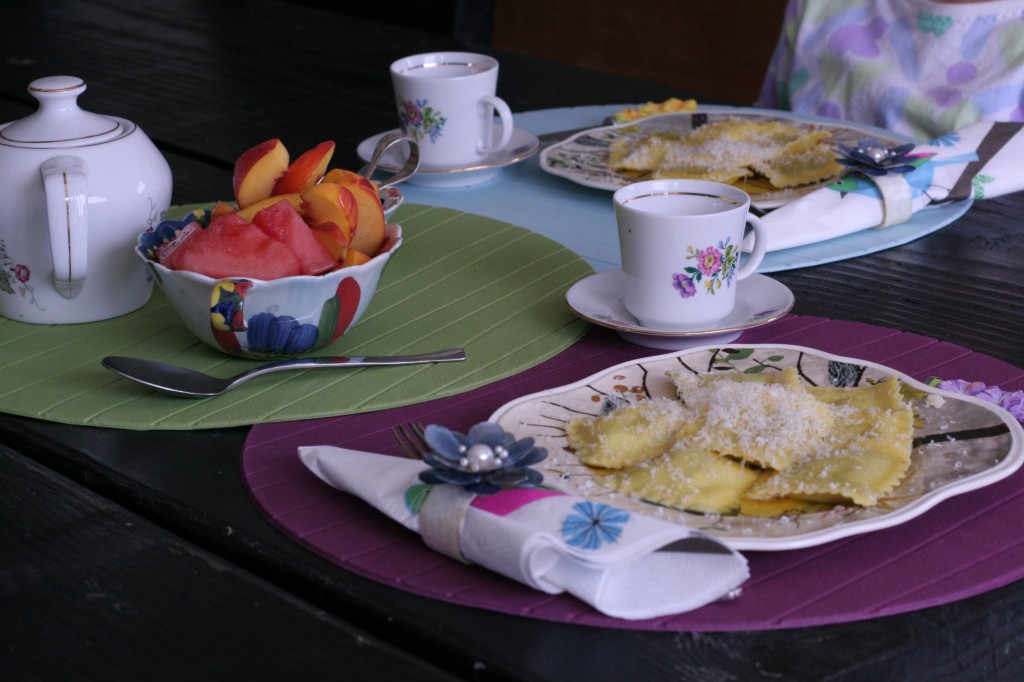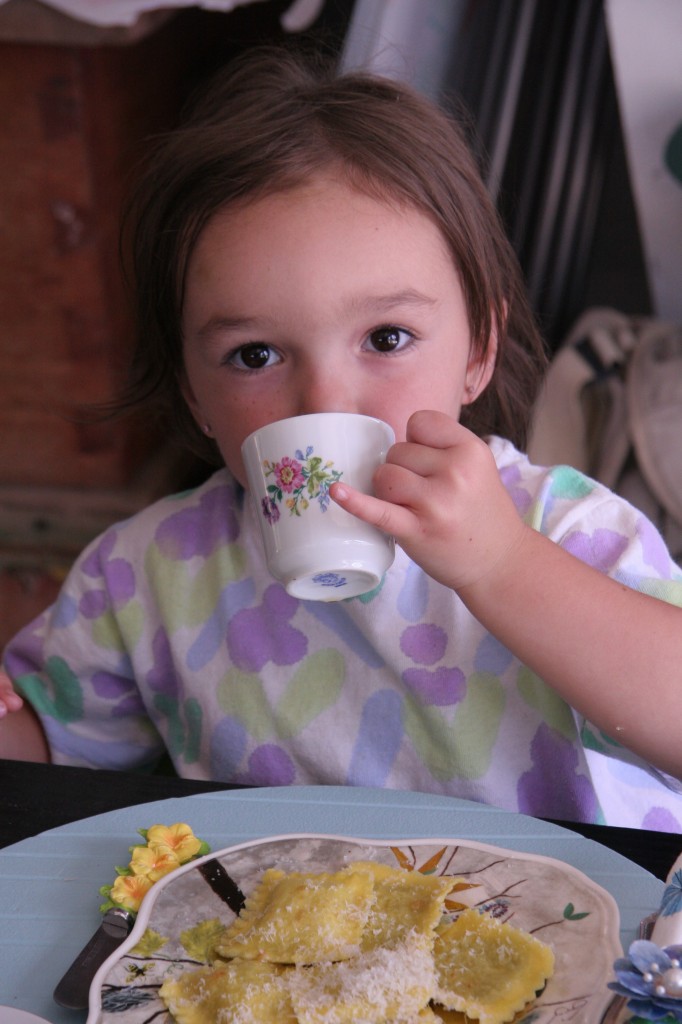 My big girl had her first day of school last week in Pre-Kindergarten.  I also started my first day back at the same school as a high school performing arts director. I LOVE teaching high school! God has definitely given me a heart and passion for serving teenagers.
Things are very crazy in life and fun at the same time.  We see this upcoming season as a season of cleansing, renewal, birth of new things, and growing deeper in our relationships with eachother and with God.
Thank you for continuing to follow us here at Real Food Family!  Stay tuned for so much more in the coming weeks!
***