It's been 4 months since we left the homestead and the homesteading bug hit my husband and I like a ton of bricks this past weekend. Now instead of 3 acres we have a tiny little yard but that doesn't mean we can't still homestead!
First I cleaned up a little strip of garden space we have and went to the nursery to buy started herbs and vegetables. Seeds are always the more economical choice, but I like the instant gratification of started plants and my kids always mess up the dirt where we plant seeds anyway. So here's the makeover: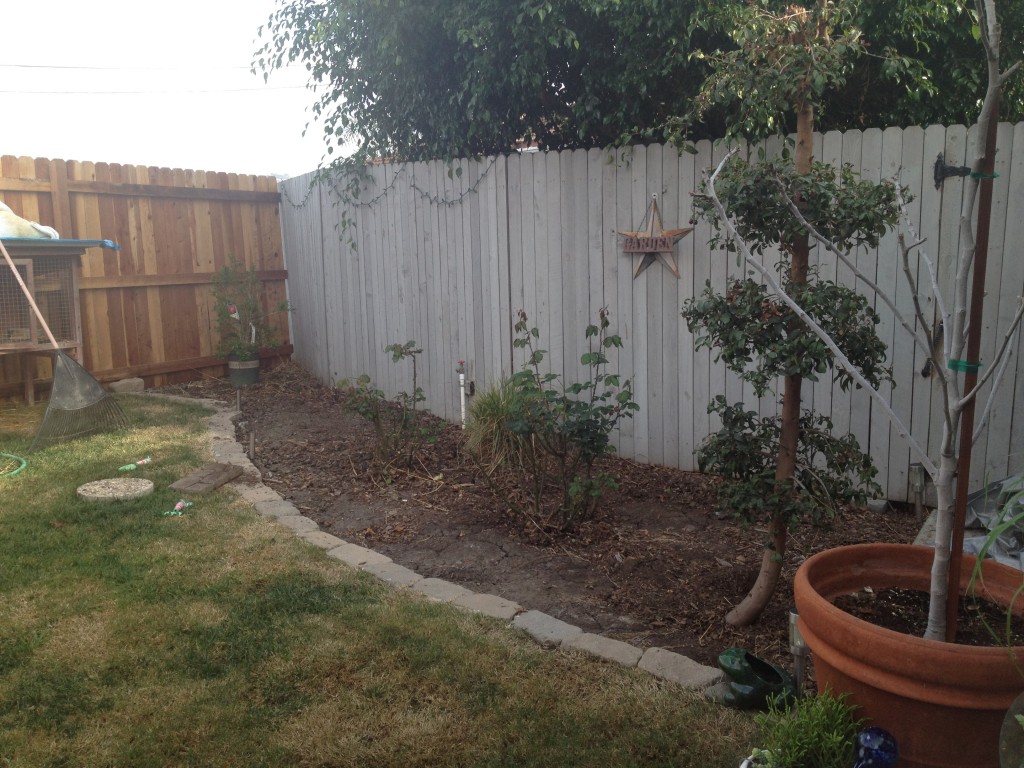 Notice how hard and dead this soil is under the old wood chips. I laid out my plants to decide where everything would go (with the help of a kid) then started to dig. Very soon I realized I needed my husband's help because the ground was like concrete! The smart thing to have done was to spend a few weeks working on the soil…but we didn't.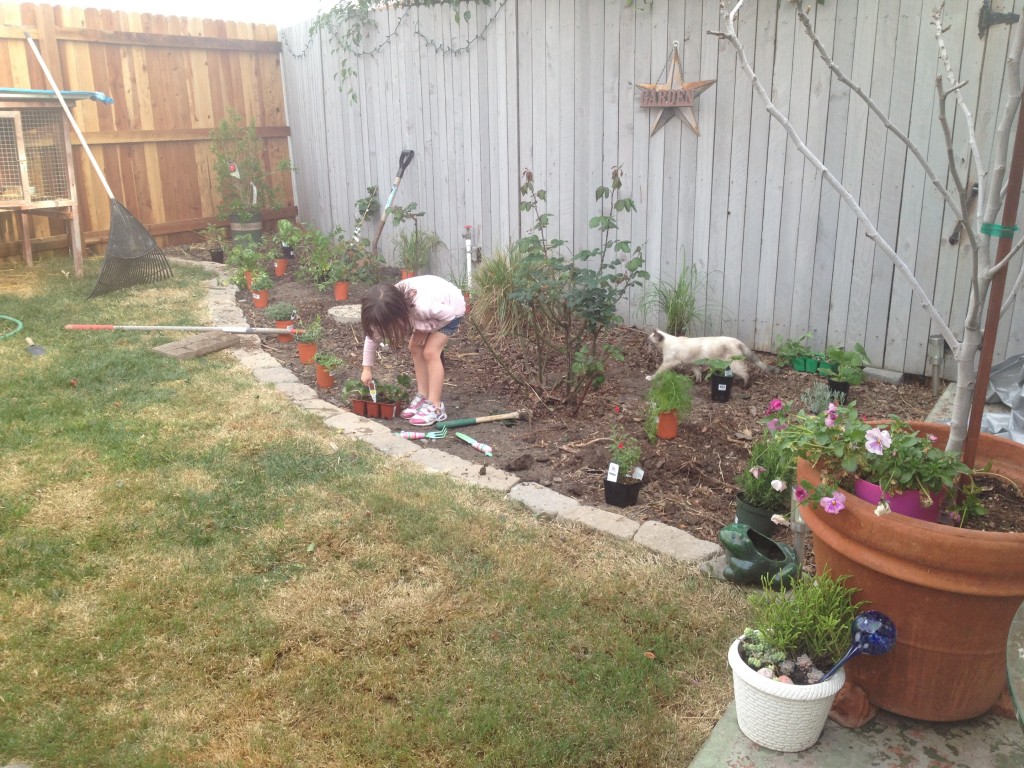 Remember the adorable tiny baby kittens we rescued and raised a few months ago? That little girl in the picture is the one we kept. 🙂
We worked until it was pitch black outside, digging and adding a store-bought compost mix into the existing dirt as we planted until we finished. There were quite a few bugs living in this dead soil, so hopefully if we keep it wet and fertilized we can revive it. We live along the coast of Southern California and our soil is basically completely clay, but it can be transformed into excellent growing soil with the right additions. I've always used raised garden boxes, so planting directly into the ground like this is going to be a new challenge for me. We don't have gophers in this yard and I think that plants grown in the ground can grow much bigger and better than in raised beds, so I'm up for the challenge.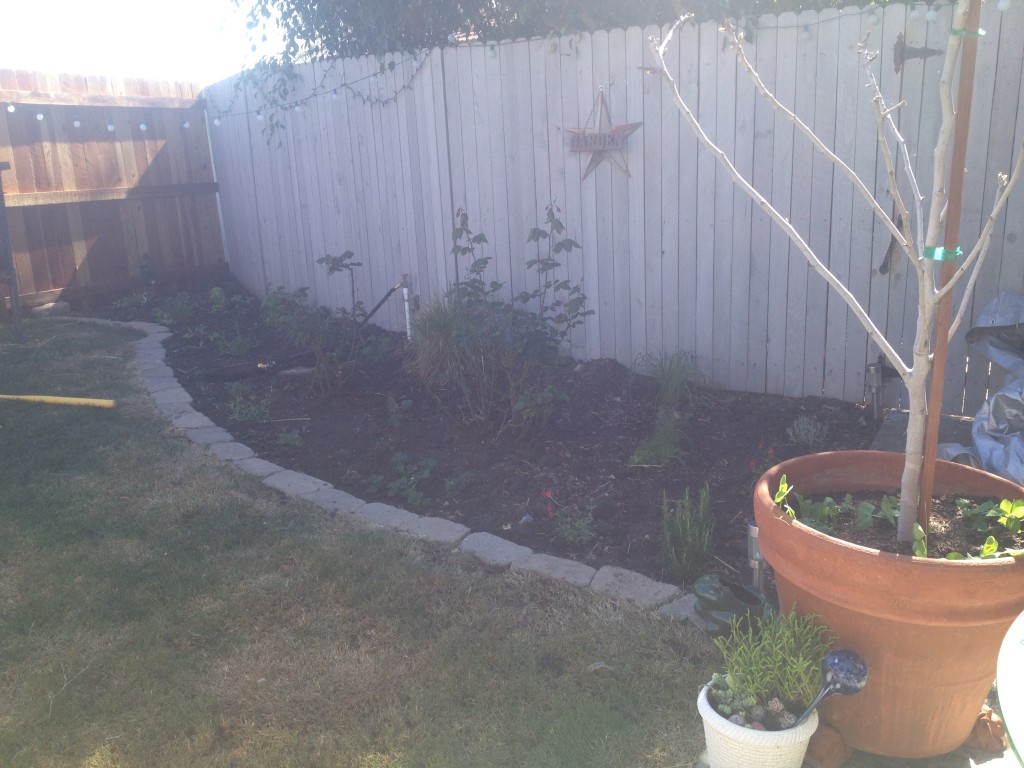 We planted all kinds of herbs, a few tomato plants, a blackberry vine, 2 lemon grass bushes, Chandler strawberries, and two native autumn sage bushes that should attract bees and hummingbirds. I also planted some sugar pea vines in my potted fig tree. I'm planning to use the tree as the structure for the peas to grow on…hopefully it won't overwhelm the new growth on the fig tree. I'll probably have to train the vines to grow another direction. There are two rose bushes in the garden that are very healthy…I can't wait for the extremely fragrant blooms these guys produce when the weather warms up (more than the average 70 degrees we've had all winter).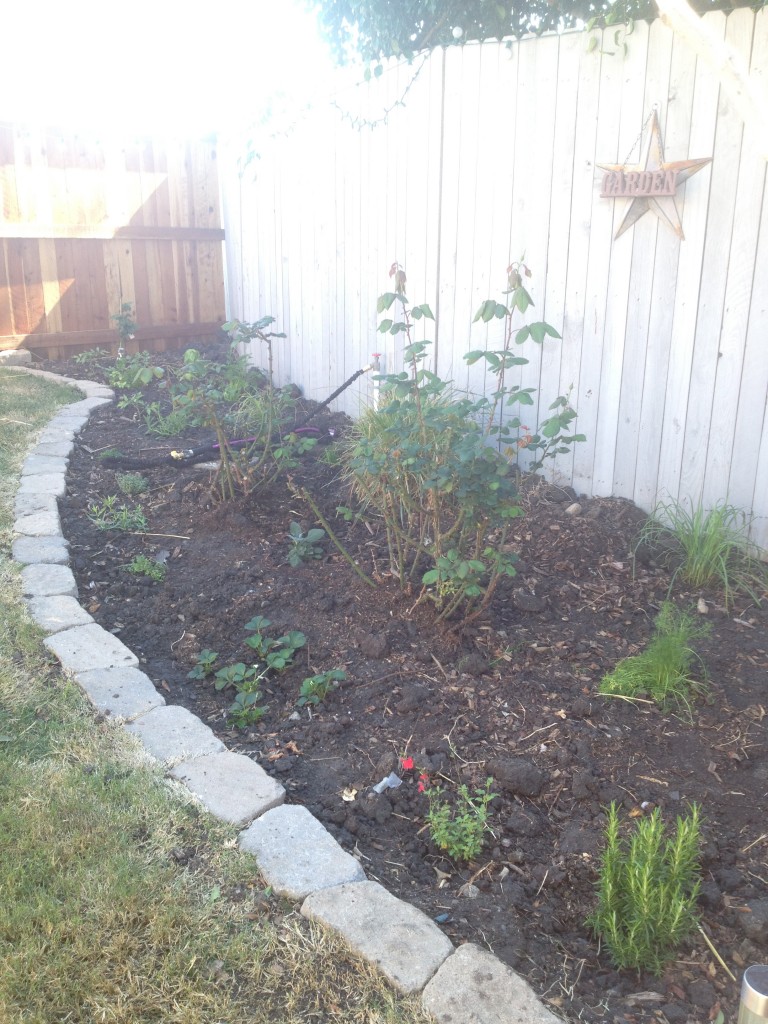 Sorry to rub in how wonderful our weather is right now as the rest of the country is drowning in snow. We are in a very serious drought, though. We've had almost no rainfall which is a serious problem here, so nobody wins. 😉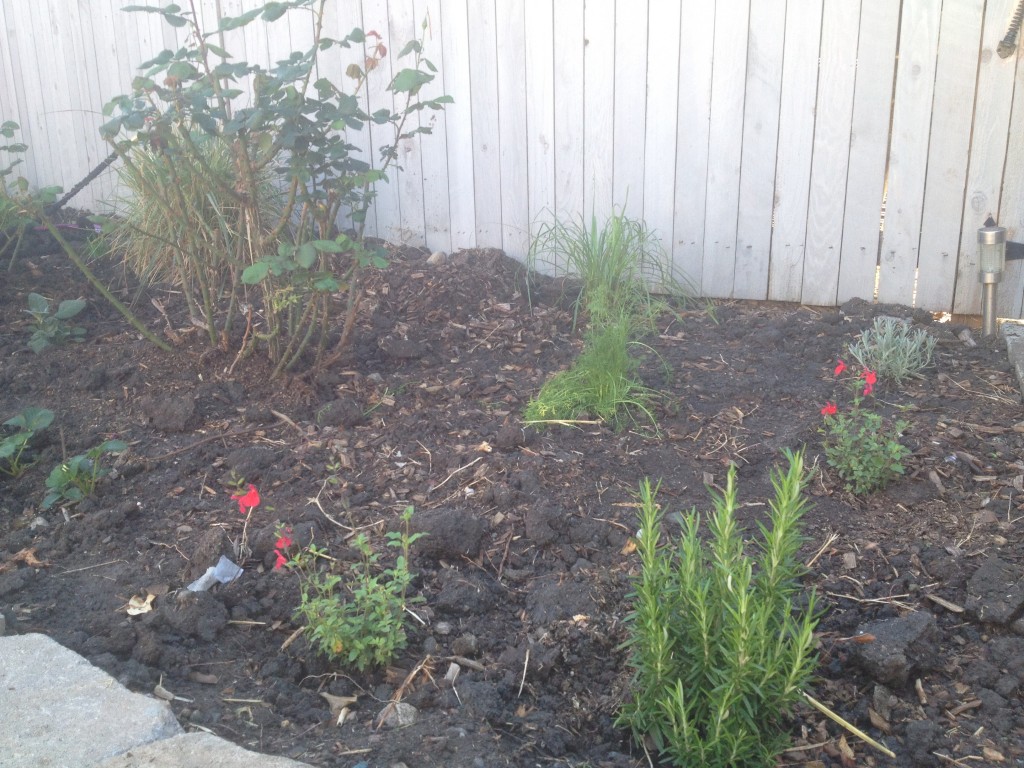 And Then Came The Rabbits:
While we were working through this dead soil my husband and I began to talk more about raising rabbits. Rabbit poop could really help this soil! We wanted to do this on the homestead and never actually did it. We've talked about it quite a bit since moving back to the "city". Rabbits are an excellent urban homesteading choice because they're quiet, legal, and an extremely sustainable livestock animal. The best part…and the biggest problem with raising rabbits is that they're so darn cute! When I tell people I want to raise rabbits for meat and pelts they look at me like I'm totally crazy. Yes, the idea of raising adorable little bunnies and killing them is absolutely horrible…but I'll tell  you what's MUCH worse: commercial animal farms. If you are going to make the choice to eat meat or eat/use animal products you should take the responsibility to know where your animal products are coming from. Most likely the animals were raised in inhumane, disgusting and horrifying conditions unless you make a deliberate, and often more expensive, effort to find animals raised humanely with plenty of air and space- either on pasture or in the wild. I was once a vegan because of how disgusted I was with the commercial farming industry. Because I believe that properly raised animal foods are actually the best and most sustainable choice for human health, I make a considerable effort to make responsible choices when it comes to the animal foods I eat or use. Sometimes that means paying more than double the average price for a chicken or beef roast. Sometimes that means raising and processing the animals myself. This second choice is much more difficult because I love my animals. But when you raise and process animals for food, you value and utilize every single part of the animal without wasting a thing. You usually don't have that kind of connection with the cheap, pre-packaged food you buy in the store.
The kids understand how this is going to work. Our first three bunnies are going to be our breeder bunnies for a long time, so they can get attached to them and give them names. We contacted a local breeder and picked up a purebred New Zealand breeding pair, plus an extra doe that is half Californian, half Silver Fox (and she's almost completely black). We will rotate litters of babies so that the kids can have fun raising little bunnies until they reach a good size for processing, then be able to focus on the next litter when the first group "moves on". The will live wonderful, happy lives and provide a family with nutritious, sustainable protein and useful fur. I actually believe this is an incredible way to raise children- teaching them to be responsible for caring for animals, respect and honor an animal's life, and truly appreciate how their food arrives at the table.
I'm very sorry if this concept is difficult for some people to understand or agree with. I do believe that small sustainable animal farming- like rabbits, chickens, goats and cows- are the better answer to solving world hunger, malnutrition and environmental protection than veganism or mass GMO vegetable farming. More on this in a future post…
Let me introduce you to the bunnies! Here's Abraham, who will be the father of many. 😛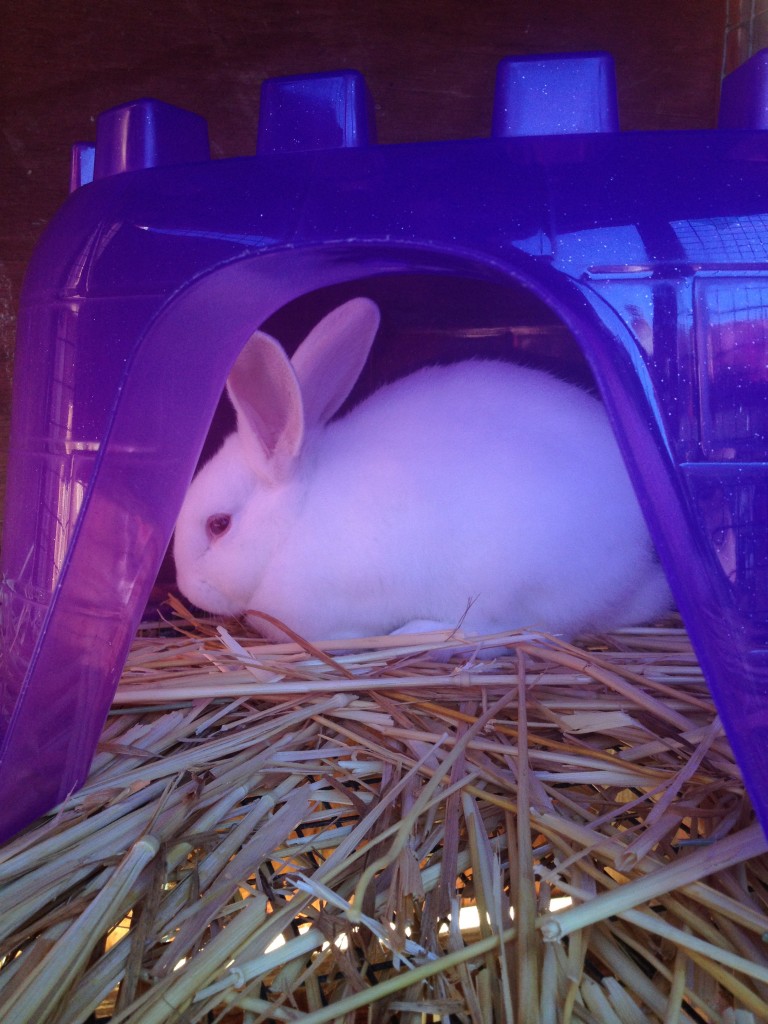 Here are the blessed mothers, Sarah (white) and Mary (black). Although I'm sure their names have already changed a few times since publishing this.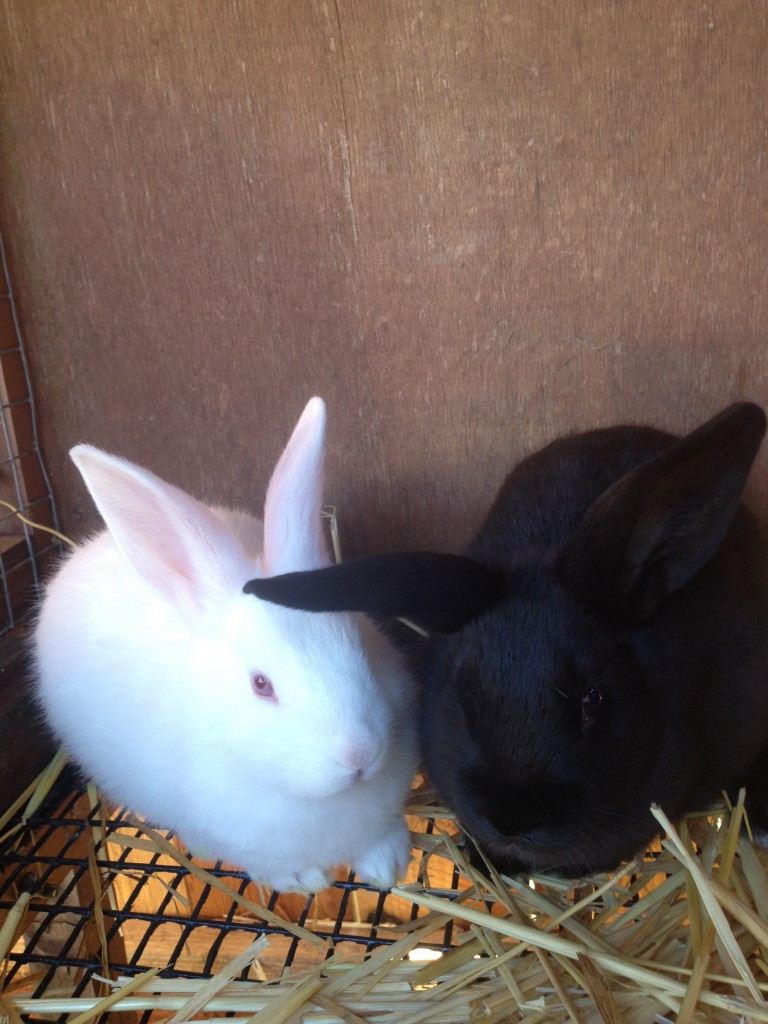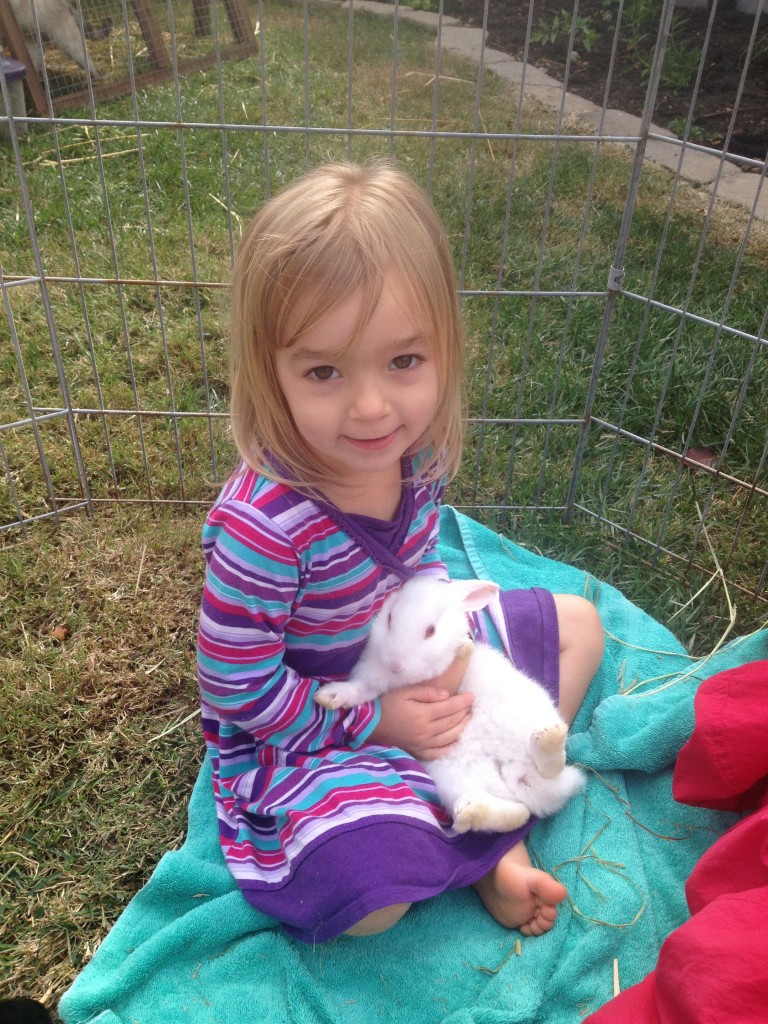 Here is my "animal whisperer" daughter taking a little nap in the sun with Abraham and Sarah.
I'll keep updating how things go. They won't actually start breeding for another 3-4 months, so we'll probably have our first rabbit litter when our own little baby is born. That will be interesting fun. 😛