Healthy, bright, colorful, warm, energizing, delicious. It's summertime and I'm busy going from the pool to the beach and now to my daughter's ballet recital…
In other words, I don't have much to say except that this recipe is light and delicious and I recommend that you make it a summer go-to recipe either as a side dish or the main event. After the main recipe I've also included my recipe for Homemade Mayonnaise with a Pesto Mayonnaise option that you can use to make a bonus leftover creation that I call "Creamy Chicken Quinoa Salad". I make these two recipes a lot.
These recipes are perfect for packed school or office lunches and would be great for a day at the beach or pool. I packed it up a few weeks ago and took it to Disneyland and it was perfect to pull out of my bag as I fought the churro temptations.

It's pretty basic…
Cook the quinoa.
Chop the veggies and herbs.

Make a vinaigrette.
Toss your salad.
Good stuff.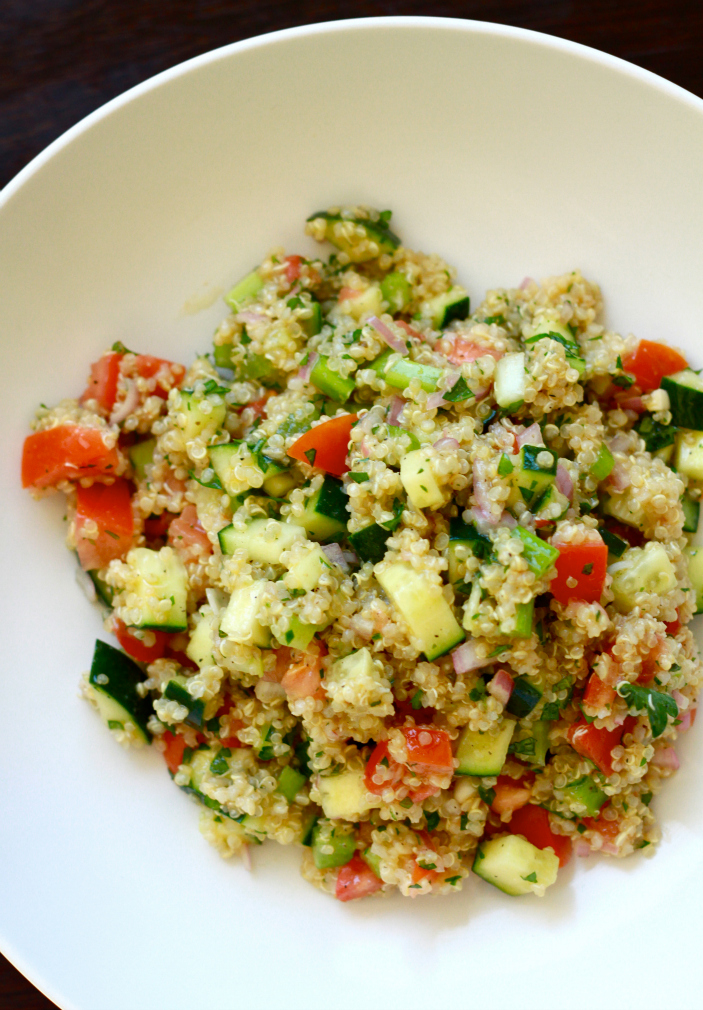 Vegetable Quinoa Salad
Ingredients:
1 cup quinoa
salt and pepper
1 cup tomatoes, seeded and chopped
1 cup celery, chopped
1 cup cucumber, chopped
½ cup flat-leaf parsley, finely chopped
For the dressing:
¼ cup shallot (or onion), finely chopped
1 tablespoon Dijon mustard
2-3 teaspoons honey
1 teaspoon salt
½ teaspoon pepper
½ cup extra virgin olive oil
Place the quinoa in a small stockpot with 2 cups water and a large splash of salt. Bring to a boil, then let simmer for 10-12 minutes, until the liquid is absorbed and the quinoa is soft.
Meanwhile, chop all the vegetables and place in a large bowl. Transfer the cooked quinoa to a large sieve and strain with cold water in the sink, then transfer the quinoa to the large bowl with the vegetables. Season with a little salt and pepper, then gently toss all the ingredients together.
To prepare the dressing, whisk all ingredients except the oil in a medium bowl. Slowly drizzle the oil into the mixture, while whisking, until a smooth dressing forms. Pour the dressing over the quinoa salad and toss to coat the salad evenly with the dressing. Season, as needed, with salt and pepper, then serve.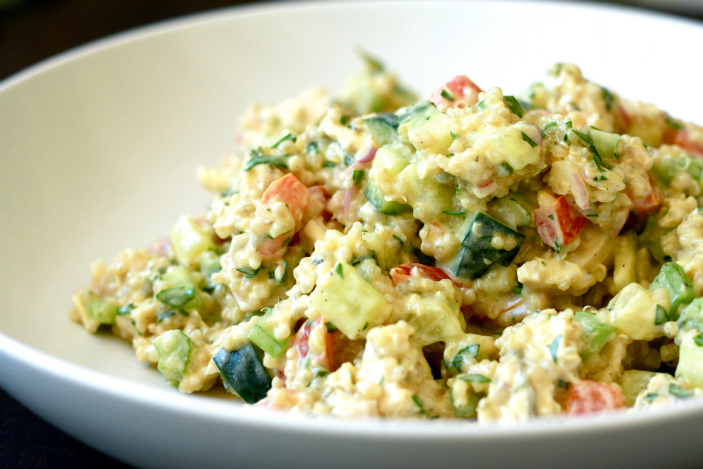 Creamy Chicken and Quinoa Salad
Ingredients:
2 cups cooked chicken, chopped
2 cups leftover "Vegetable Quinoa Salad"
½ cup "Pesto Mayonnaise" (see below)
Gently toss ingredients together in a large bowl, then season, as needed, with salt and pepper to serve.
Homemade Mayonnaise
Ingredients:
2 egg yolks
2 tablespoons white balsamic vinegar
Salt and Pepper, (use white pepper if you have it)
1- 1 1/2 cups Olive Oil (not Extra Virgin- use unrefined "light" if you can find it)
Place egg, vinegar, and salt and pepper, to taste, in a tall cup used with an immersion blender, or in a mini food processor, and pulse to blend.  While pulsing, drizzle in oil until mixture emulsifies and becomes thick (like mayonnaise!)  Keep refrigerated for up to 2 weeks.
For Pesto Mayonnaise, stir 1/4 cup "Basil Puree" (below) into 1 cup "Homemade Mayonnaise" until blended. Store refrigerated for up to 2 weeks.
Basil Puree
Ingredients:
4-6 cups basil leaves
1 cup flat-leaf parsley leaves
4-5 cloves of garlic, roughly chopped
3 teaspoons salt
2 teaspoons pepper
1 cup extra virgin olive oil
Place all ingredients except oil in a food processor or blender and pulse until finely ground.  While pulsing, slowly add oil until smooth puree forms.  Use immediately for recipes, or store refrigerated in an air-tight container for up to 2 weeks.