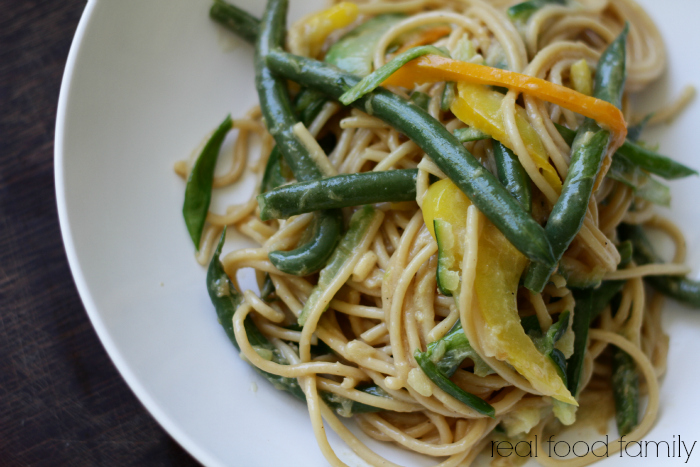 I try not to eat a lot of grains on days that I don't work out, but I do find that I do really well with a grain-based lunch when I know I'll be working out a lot. I learned the hard way that 100% grain-free isn't for me. This veggie-loaded dish is full of vibrant color and energy-producing calories. The Asian flavors are a refreshing break from the typical Italian pasta recipes.


Grain free?
There's always a way for grain-free dieters to enjoy pasta dishes, and that's by making noodles with zucchini or spaghetti squash. You can use a vegetable peeler to slice long, thin strips of zucchini "a la pappardelle", discarding the spongy, seedy center. Thinly sliced zucchini will cook very fast, so you don't have to pre-boil, just sauté them with your other vegetables and sauce.
If you'd like to use spaghetti squash, preheat oven to 375°F. Slice the squash in half, lengthwise, then scoop the seeds out. Place the squash, flesh-side down, in a large baking dish and fill the baking dish with 1-2 inches of water. Bake for 30-45 minutes, until squash is soft. Let it cool a little, then use a fork to pull the "noodles" out of the squash.
A note on the pasta we use…
In my process of discovering my need for grains, I found that Einkorn flour is a great option. It's an ancient wheat that has not been hybridized. Einkorn flour works really well as a substitute for regular white flour in every recipe I've tried. Since Jovial Foods makes organic (non-pesticide, non-GMO) Einkorn flour and pasta, and you can get it through my Marketplace, that's what I recommend using.
Shop for Jovial Foods Einkorn Flour and Pasta here. 
This is pasta-obsessed child advertising our last shipment of Einkorn products.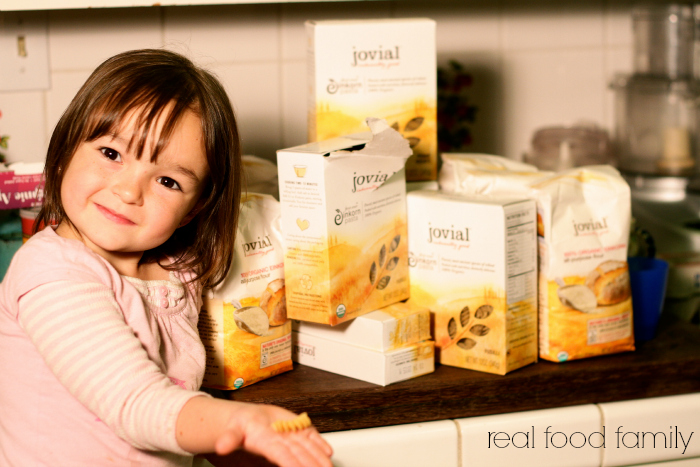 Vegetable Nood Bowls with Ginger Peanut Sauce
Ingredients:
1 pound pasta noodles (such as spaghetti), I recommend Einkorn pasta
coconut oil (find good coconut oil here)
2 zucchini, thinly sliced
2 bell peppers, seeded and thinly sliced
8-12 ounces green beans, stems removed
3-4 green onions, thinly sliced, dark green and white parts removed
1 garlic clove, finely chopped
2 teaspoons fresh ginger, grated
1/2 cup creamy peanut butter
1/2 cup naturally fermented soy sauce
1/4 teaspoon cayenne pepper (optional, only if you want some spice)
Bring a large stockpot of water to a rolling boil while preparing the vegetables.
Heat a coating of oil in a large skillet or saucepan and sauté zucchini, bell peppers, green beans and green onions for 8-10 minutes, until lightly browned. Season the vegetables with salt and pepper.
Add a small handful of salt to the boiling water and cook pasta for 8-10 minutes, until soft, but not mushy. Transfer the pasta to the vegetables and sauce using a slotted spoon or kitchen tongs.
In a small bowl, whisk the garlic, ginger, peanut butter, soy sauce and optional cayenne pepper together until smooth. Add the sauce to the pasta and vegetables and gently toss to evenly coat the pasta and vegetables with the sauce, then serve.