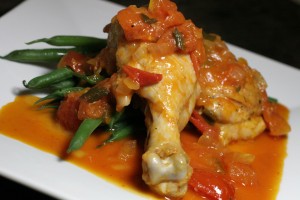 | | | |
| --- | --- | --- |
| Tangy Chicken Sauté with Green Beans | | |
Author:
Ingredients
1-2 pieces of chicken per person, such as legs and thighs
salt and pepper
2 tablespoons butter
2 tablespoons extra virgin olive oil
1 onion, sliced
1/3 cup white vinegar
2 tablespoons tomato paste
1 cup diced tomatoes
1 cup chicken stock
Green beans, (as much as desired)
Instructions
Season chicken liberally with salt and pepper. Heat butter and oil in a large skillet and brown chicken for 3-5 minutes per side. Remove chicken and set aside. Add onions to pan and sauté for 3-5 minutes. Stir in vinegar, tomato paste, tomatoes and chicken stock, and let simmer for 5 minutes. Add chicken back to pan, cover and let cook for 20 minutes, turning chicken after 10 minutes, until chicken is cooked and sauce is thickened. (If sauce is too vinegar-y, add more stock and simmer until taste is pleasing.)
While chicken is cooking, steam green beans until bright green and soft. Season lightly with salt and serve with chicken.