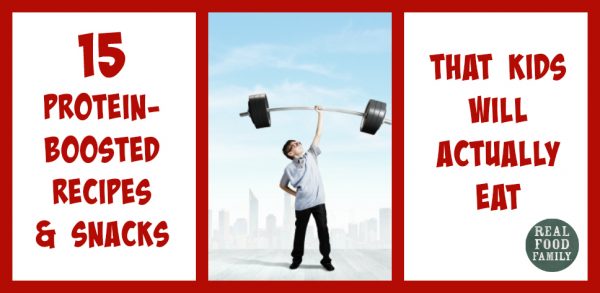 In our house we are constantly trying to add quality sources of protein to our kids' meals. All of our kids are very active, but our oldest daughter is a competitive junior olympic gymnast at one of the top training centers in the world…which means she works her body like a professional athlete for up to 20 hours per week, and she's still a little girl. I'm always worried about her nutrient intake, especially protein, to support the level of strength training she does.
Everyone- kids and adults alike- could use more quality protein in their diet, as I elaborate on in this article. In addition to quality meat, fish, eggs and raw or cultured dairy foods, my favorite protein boosters are grassfed beef gelatin and collagen peptides from Vital Proteins.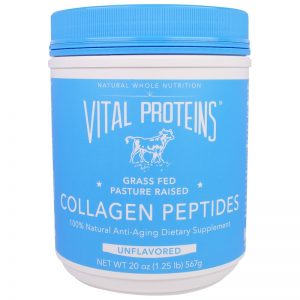 Gelatin and collagen peptides do more than cover the basic macronutrient need for protein. These particular proteins support healthy joints, bones, muscles, hair, skin, nails, and cellular function…to name a few things. These proteins also can be key for digestive health. You've likely heard of bone broth by now. The gelatin, collagen and minerals extracted from bones is what makes a good bone broth so miraculous.
(I'm not a huge fan of protein powders- including whey, pea, rice and especially soy. I personally can't digest any of them no matter how "good" they are. However I do recommend some super high quality whey or rice protein supplements for clients in particular need, but not very often. Without spending an entire post on this subject, I simply don't like the processing, molecular changes and oxidation that occur when producing the powders. For me personally and for children, I like to stick with the food, gelatin and the collagen peptides mentioned above.)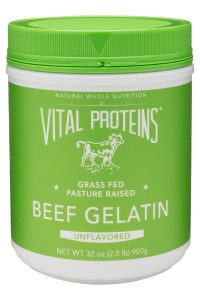 In addition to the gelatin and collagen peptides, foods like meat, eggs and dairy are very important sources of protein. Quality of these foods makes ALL the difference. Please visit our links about meat and fish, eggs and dairy to learn more about what we recommend.
Like most kids, mine are picky eaters– especially my gymnast who requires so much added nutrition! I've been forced to fine tune our protein-boosted recipes and "go to" snacks so they are kid-approved and easy to throw into our busy life schedule! Feel free to comment with your ideas and success stories in the comments below!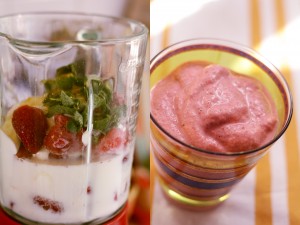 1. Smoothies
Smoothies are a real food kitchen's secret weapon for sneaking almost anything into a kid! This is our basic whole food smoothie recipe, which you may find surprisingly different than most smoothie recipes. Most popular smoothie recipes are loaded with almost entirely carbohydrates and processed protein powders. Our version is loaded with healthy fats, eggs, probiotic yogurt, greens powder and, you guessed it, collagen peptides protein! Here's the recipe link.
2. Homemade Protein Bars
Homemade protein bars are super easy to make and also to make flavor variations. Here's the basic recipe:
Place all ingredients in a food processor and pulse until a cohesive mixture forms. If it's too loose or liquidy, add more rolled oats. Press the mixture into a large baking dish then refrigerate until firm. Cut into rectangles and keep in the refrigerator until you're ready to eat.
3. Protein-Boosted Muffins or Pancakes
We have basic "one-bowl and spoon" muffin and pancake recipes posted on sticky notes in one of our kitchen cupboards to make whenever we get in the baking mood. Of course, we add a couple scoops of our collagen peptides as well as whole milk yogurt and extra eggs.
For pancakes, just mix these ingredients (first the dry, then add the wet) in a bowl and bake on a griddle. I like to make the batter before bed so I don't have to do much in the morning.:
For muffins, mix these ingredients (first mix the dry, then mix in the wet) in one bowl then scoop into a buttered muffin pan (baking cups are optional). Bake at 375 degrees F for 15-20 minutes.
4. Homemade Gummy Snacks
I have an ultimate collection of homemade gummy snacks from our kitchen and around the world at this link. There are some awesome recipes out there!
5. Homemade Fruit & Jello Cups
Forget store-bought artificial everything Jell-O crap. Homemade jello is so incredibly easy. My kids love it when I put fresh fruit into the cups more than when it's plain, so here's the recipe: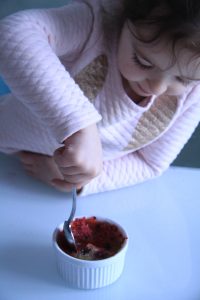 Mix the gelatin in 3-4 tablespoons of tepid water and whisk to clear out any lumps. Heat the fruit juice on the stove over low-medium heat until it is almost too hot to touch- like a really hot bath. Remove from heat then whisk the tempered gelatin mixture.
Place the fruit in small ramekins or disposable cups and pour a serving size of the juice mixture over the fruit. Refrigerate for a couple hours until the jelly is firm and serve!
6. Homemade Custard Bowls
I'm handing this recipe over to Martha Stewart. A basic vanilla custard recipe has lots of the protein-packed traditional foods we are going for, so her recipe a fantastic treat or snack as long as you don't overdo the sugar. I prefer to use raw honey or maple syrup instead of sugar. Make sure to use pasture-raised eggs, grassfed whole milk and the grassfed beef gelatin we recommend for this recipe. (You don't have to serve it in eggshells! Some ramekins or disposable cups will work just fine.)
7. Soaked Oatmeal Custard
Our version of oatmeal is a more loaded with healthy fats and protein than your standard instant oats with water! Here's our very popular soaked oatmeal custard recipe, prepared the way oats should be prepared. 🙂
8. Yogurt or Kefir Smoothie Drink
We have found organic fruit flavored whole milk yogurt and smoothie drinks at Trader Joe's and health food stores. Be careful- 90% of the yogurt and kefir drinks out there are made with reduced fat dairy, or include reduced or nonfat dairy powder, which we fully do NOT recommend. The kids will happily grab and guzzle these on the run. I also like to blend a whole milk fruit flavored kefir with frozen fruit, ice and water for a super quick sweet smoothie.
9. Salami + Crackers
Trader Joe's and most health food stores have a wonderful selection of top quality salami, made without nitrites or nitrates. There are endless supplies of healthy whole food crackers out there to pair the salami with, too. Our favorite Trader Joe's crackers are the sesame rice crackers, both full size and mini.
10. Fruit or Veggies + Yogurt, Cheese or Nut Butter
This classic combo is classic for a reason- a perfect blend of carbohydrates, fat and protein. Apples with cheese, bananas with peanut butter, celery with peanut butter, berries with yogurt or cream cheese…all classics and for good reason! In fact, it's always good to pair your fruit with fat and protein to ensure macronutrient balance.
11. Cheese Chips
I've seen a couple options for dried "cheese chips" at different health food stores but we get ours at Trader Joe's. These crunchy, savory snack bites are made of 100% cheese and packed with protein.
12. Pork Rinds
Won't pork rinds make you fat? Nope. As long as your pork rinds come from healthy, organically raised animals then pork rinds will be full of protein and fat, and even Vitamin D! We get our pork rinds from a company called Epic, available at Whole Foods or Thrive Market online. I also suggest Epic's Maple Pork Cracklings because they are insanely good.
13. Hard-boiled eggs, Egg Salad or Tuna Salad
These three options are staples in our house, mainly because of our endless supply of eggs from our chickens and the ease of opening a can of tuna. I prefer olive oil-packed tuna and I get mine at Trader Joe's. Here is a recipe for our favorite basic egg salad (plus homemade mayonnaise and lacto-fermented pickles). You can switch out the eggs with your tuna and it's basically the same method and ingredients to make tuna salad. We like to eat the eggs or tuna mixture with salad or in sandwiches. Only half of my family members like hard boiled eggs alone, so of course that's an even easier option if you have takers. I like to make my homemade mayo and dip hard boiled eggs in it with a salt shaker nearby to sprinkle on top. One of my kids likes hard boiled eggs with organic ketchup.
14. Beef Patty, or burger
When you have an athletic kid a full size burger can often be a snack food. Either as a meal or snack, we like to have frozen grassfed beef patties ready to quickly defrost in hot water and sear on the stove or grill, seasoned with a little salt, pepper and garlic powder. We let our daughter make this herself if she wants to so it's one of our staple "go to" protein snacks.
15. Sushi or Poke Bowls
I had to add sushi and poke bowls to this post at the recommendation of my daughter. Yes, the picky eater herself would eat endless supplies of raw fish and poke bowls if she could. When I ask her what her favorite protein is, she will quickly and without any other thought reply, "sushi!". The best poke bowl I ever had was from a shop called Broke da Mouth in San Clemente, CA…in case you were wondering. And I've had a lot of poke bowls!
What about you? How do you get more protein in your kids' diet, or yours?