Do we really NEED vitamins? Yes, of course. Our bodies cannot survive without essential vitamins and minerals. 
Do we really NEED vitamin supplements? No, of course not. We can get essential vitamins and minerals from nutrient-dense foods! However, high quality nutritional supplements are a modern luxury that we SHOULD take advantage of. For optimal health, we should nourish our health instead of merely "survive".

Most of us simply do not get enough nutrition from our food- even those of us who eat exclusively organic and wild foods, eat liver and organ meats, ferment and culture superfoods on our counters and raise our own eggs in the backyard! Modern food production- even organic production- rarely provides the nutrient-dense foods we need for optimal health. High quality supplements can bridge that gap for us.
Our bodies are physically degenerating. In these modern days they are degenerating rapidly due to our standard health and lifestyle practices. Most of the diseases that plague our modern culture are considered "degenerative" diseases.
You see…
The body's cells regenerate every 90-120 days. If we are not nourishing our bodies with good health practices and nutrient-density, our new cells will not be healthy and degenerate as they regenerate. Does that make sense? With cellular degeneration we experience symptoms of dysfunction in our body organs and symptoms of nutrient deficiencies, as well as serious diseases related to organ dysfunction and nutrient deficiencies.
High quality nutritional supplements help regenerate healthy cells, support the body's organs to function properly and supply a sufficient balance of nutrients, therefore supporting optimal health and often addressing and improving health problems. 
"Vitamins" are the first daily intake item on my Real Food Cheat Sheet. If you click here you can download a FREE printable Real Food Cheat Sheet to help you get the best nutrition every day and guide your daily health choices.
What is a "high quality nutritional supplement"
I look for nutritional supplements formulated by experts and derived from whole food sources. I do not like mega doses of synthetic chemical vitamins that have been clinically shown to lead to more health problems! Vitamins and minerals rely on balance with other vitamins and minerals, and they rely on "co-factors", which are complimentary nutrients that support the assimilation and usefulness of the vitamin or mineral in the body. I like supplements that have credible scientific and clinical research evidence supporting their use. I'm very picky, and you should be, too!
What our family uses
My recommendations for you are for the same supplements I use for myself and my family! We are representatives or affiliate members for many of the items listed below, which means we believe in them so much that our own livelihood revolves around sharing them with you! We do make a small commission on your purchases, which is how we keep Real Food Family up and running. (Thank you in advance!)
For all products listed as "doTERRA" products, you can click on the links or pictures to shop our online doTERRA store, or visit this page to learn more about shop doTERRA with us at the best prices.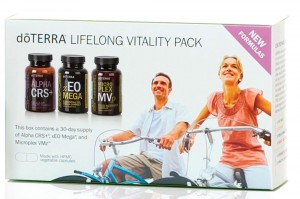 For some people, this list may seem like a lot of products, but these cover ALL necessary nutritional supplement needs with the proper balance and cofactors. I typically will not recommend additional isolated supplements (like individual vitamin or minerals) unless my health assessment indicates a need for additional therapeutic supplements. This is why it always helps to get professional advice for what supplements to take. Contact us if you have questions!
Lifelong Vitality Pack (doTERRA)
dōTERRA's Lifelong Vitality supplements are formulated with potent levels of essential nutrients and powerful metabolic factors for optimal health, energy, and longevity. The Lifelong Vitality supplements are available for individual purchase, or available (at a steep discount) when purchased together using a doTERRA wholesale membership account.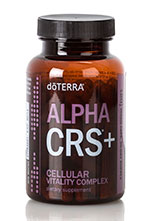 The Lifelong Vitality Pack comes with these three supplements:
Alpha CRS®+ 
dōTERRA Alpha CRS®+ Cellular Vitality Complex is a proprietary formula combining potent levels of natural botanical extracts that support healthy cell function with important metabolic factors of cellular energy.* Alpha CRS+ is formulated to be used daily with xEO Mega® or vEO Mega® and Microplex MVp™ as a comprehensive dietary supplement foundation for a lifetime of vitality and wellness.*
Microplex VMz® 
dōTERRA Microplex VMz® Food Nutrient Complex is a food nutrient formula of bioavailable vitamins and minerals that are deficient in our modern diets. The formula includes a balanced blend of essential antioxidant vitamins A, C, and E, and an energy complex of B vitamins.* Also contained in the formula are calcium, magnesium, and zinc for optimal bone and metabolic health.* Microplex VMz contains the dōTERRA tummy tamer botanical blend of Peppermint, Ginger, and Caraway to calm the stomach for those who may have experienced stomach upset with other vitamin and mineral products.* This formula is encapsulated using sodium lauryl sulfate-free vegetable capsules, and does not contain wheat or dairy products.
xEO MEGA® 
dōTERRA xEO Mega® Essential Oil Omega Complex is a unique formula of CPTG Certified Pure Therapeutic Grade® essential oils and a proprietary blend of marine and land-sourced omega fatty acids. Omega fatty acids help support joint, cardiovascular, and brain health, and support healthy immune function.* A daily dose of xEO Mega provides 950 milligrams of marine lipids (providing 300 mg of EPA, 300 mg of DHA, and 55 mg of other omega 3s), and a blend of 210 mg of plant-sourced fatty acids. xEO Mega also includes 800 IU of natural vitamin D, 20 IU of natural vitamin E, and 1 mg of pure astaxanthin, a powerful antioxidant carotenoid harvested from microalgae.* xEO Mega is encapsulated in a vegetarian-friendly softgel. Not 100% Vegan. xEO Mega contains the best quality omega-3 oils harvested from anchovy, sardine, and mackerel.
PB Assist+ Probiotic (doTERRA)
PB Assist®+ is a proprietary formula of pre-biotic fiber and six strains of probiotic microorganisms in a unique double-layer vegetable capsule. It delivers 6 billion CFUs of active probiotic cultures and soluble pre-biotic FOS (fructo-oligosaccharides) that encourage friendly bacterial growth.* The time-release, double-capsule delivery system is designed to help protect the sensitive probiotic cultures from stomach acid. PB Assist+ offers a unique, safe, and effective way to deliver the well recognized digestive and immune system support benefits of probiotics.*
DDR Prime® is a proprietary blend of CPTG Certified Pure Therapeutic Grade® essential oils that help protect the body against oxidative stress to cellular DNA.* The essential oils in DDR Prime provide antioxidant protection and support a healthy response to cellular stressors.*
The Rosita Extra Virgin Cod Liver Oil is fresh and a rich source of vitamins A, D and Omega fats. It is suggested that you start with one half to one full teaspoon of Extra Virgin Cod Liver Oil daily. For some half a teaspoon is all that is needed while others may require more or less depending on their body weight and type. Because fat soluble vitamins can be stored in the body you may find that after several weeks of daily consumption you can reduce your intake or cut back to a maintenance serving size. Click here to order.
For the Kids: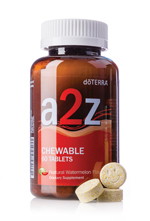 A2Z Chewable (doTERRA)
Designed for children and adults who have difficulty swallowing capsules, dōTERRA a2z Chewable tablets provide the nutrients your body needs for optimal health.*
– Combines a blend of B vitamins with vitamins A, C, and E
– Features botanical extracts and is formulated to be used with IQ Mega
– Supports healthy immunity and provides antioxidant protection*
– Promotes healthy cell development and longevity when taken daily*
– Now a great watermelon flavor!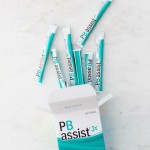 PB Assist+ Junior (doTERRA)
PB Assist Jr is a powdered probiotic supplement designed for children or adults who have trouble swallowing pills. Five billion live cells have been blended into a delicious powder that can be poured directly into the mouth for a fun and tasty way to integrate probiotics into anyone's daily routine.*
– 5 billion live cells of 6 different probiotic strains
– Strains specifically selected for their benefits among children
– Microencapsulated to help probiotics survive until they reach the intestines
– Supports healthy functioning of the digestive and immune systems *
– Tastes great
And if you have a difficult time getting enough variety of nutrient-dense vegetables and fruit in your family's diet, I highly recommend Juice Plus!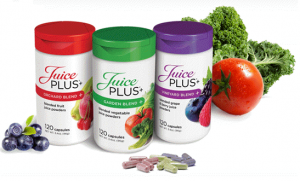 My family has taken Juice Plus+ for years and love it. This is a convenient way to add a wide range of real vegetable and fruit nutrition to your daily diet, which means hundreds of beneficial phytonutrients like vitamins, minerals and anti-oxidants. Most people simply cannot and do not eat the recommended amounts of fruits and vegetables every day. Juice Plus+ basically takes 17 vegetables, fruits and a small amount of gluten-free grains (oat and brown rice- adding fiber which is needed to absorb the plant nutrition), and dehydrates them slowly at a temperature that maintains their enzymatic properties, then encapsulates the whole food powder that remains after all the water is removed. Juice Plus+ has an impressive list of clinical research to back up their product.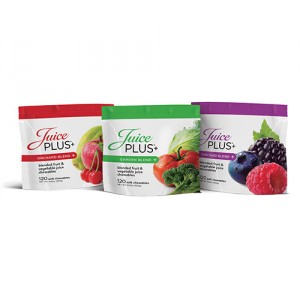 I'm mostly impressed with the data showing the absorption rate and beneficial results from the anti-oxidants in Juice Plus+…something that most anti-oxidant supplements have a hard time proving. Our family has personally enjoyed stronger immunity, better skin, hair and nails, and a noticeable increase in our desire to eat more fresh vegetables and fruit and drink more water (especially the kids). We all take the Juice Plus+ chewables, which are basically like little "vitamin treats" that the kids especially love, even though they don't contain very much added sugar. For an extra dose of anti-oxidants, I also take the "Vinyard Blend" which is a potent blend of berries like including blueberries, raspberries, blackberries, bilberries, and elderberries. Learn more about Juice Plus+ here, and feel free to contact me more about it if you are seriously interested in getting Juice Plus+ for your family…I would be happy to personally help you!
Evidence that you truly need supplements
Sometimes it helps to have some solid reasons why supplements are necessary. It's also helpful to track your health in order to see if your investment is actually paying off! I recommend our Total Body Health Assessments every 3 months as a way to design a specific plan based on your unique needs, but also keep an eye on your progress. Click here to learn more about our Total Body Health Assessments.
*These statements have not been evaluated by the Food and Drug Administration. This product is not intended to diagnose, treat, cure, or prevent any disease.