The scientific research these days relating to the importance of gut health is overwhelming. Right now I'm working on a "big gut health related project" and as I compile the scientific evidence relating the gut to all other areas of health, it's truly exhausting. The emphasis on probiotics in the "mainstream" nutrition, medical and pharmaceutical world is just one example of how widely accepted and understood the importance of gut health is. As usual, what the traditional cultures and holistic nutrition world knew all along about cultured and lacto-fermented foods and bone broths is now being confirmed and promoted by the "mainstream" health world.
We know that the health of the gut (meaning any organ in the gastrointestinal tract, but usually referring to the small and large intestine) influences not only digestion but immunity and neurological function. It is estimated that 80% or more of the immune system is located in the lining of the small intestine, and intestinal microbiota plays a pivotal role in immunity! (sources)
The development of the intestines in utero and during early infant and child development impacts the child's life of health, so following a diet for pregnant and nursing mothers is crucial to help children get the best start possible. I personally believe that poor nutritional choices and multiple exposures to toxins via environment and pharmaceuticals are largely to blame for impaired and damaged gut development which is correlated with digestive disorders, asthma, allergies, eczema and skin disorders, behavioral and learning disabilities, autism and neurological disorders. Some of us are more genetically prone to these problems than others, but we can't control that. What we can control is our health choices. 
Who Should Care About Gut Health?
Many victims of the diseases and health disorders that are plaguing our culture today are researching and discovering that gut health may be the key to addressing their symptoms, or even improving or altogether healing their disease. Examples of such disorders may include:
Celiac Disease
Crohn's Disease
Irritable Bowel Syndrome
Malabsorption disorders
Chronic digestive disorders
Allergies
Asthma
Eczema and Psoriasis
Acne
Arthritis and inflammatory disorders
Depression
Anxiety and Stress
Autism Spectrum disorders
Neurological, behavioral and learning disorders
Hormone disorders (blood sugar/insulin resistance/diabetes, adrenal disease, thyroid disease, sex hormone disorders)
Auto-Immune disorders
The list could go on and on, especially since new mutations of diseases related to these are being discovered and diagnosed every day.
Before I get carried away, this post is not to convince you of the importance of gut health. I'm not going to spend my time here explaining the connection between gut health and all areas of health. I've listed my favorite resources below for you to do this research on your own. The purpose of this post is to offer my favorite gut-healing protocols, including specific diets, resources, and key gut-healing supplements.
Why Does The Gut Need To "Heal"?
By now, most people researching gut health have learned about the term "leaky gut". "Leaky gut" refers to impaired or damaged permeability of the mucosal lining of the intestines. Here is a good article by Dr. Josh Axe describing "leaky gut" and the implications of this health issue. 
I encourage you to learn more about "leaky gut", either through that link or with the resources listed below. This post is meant to help those who already know they need to to heal their gut, so let's dive in to the resources that can help!
Gut-Healing Diets and Resources
Gluten and Soy Free
If there's one thing you could do TODAY to begin a gut-healing diet and lifestyle, it would be to cut out gluten and soy.
Because of the popularity of gluten free diets, I don't have a stand alone favorite resource. If you do, feel free to add it to the comments section below! Here is a link to all our Gluten Free recipes. All our recipes are soy-free. You can also visit our Pinterest page to see the Gluten Free boards we pin to!
Weston A. Price Foundation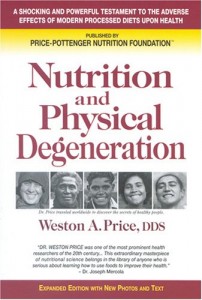 This isn't actually a "diet" but an organization founded on the principles of Dr. Weston Price's book, Nutrition and Physical Degeneration. The principles of the "WAPF" diet are based on traditional methods of properly preparing foods, avoiding "anti-nutrients" in modern foods that cause inflammation and may damage the gut, and focusing on nutrient-dense foods. An emphasis is placed on raising robustly healthy children with foods that not only develop a healthy gut, but healthy development in the entire body. Click here to go to the Weston A. Price Foundation website.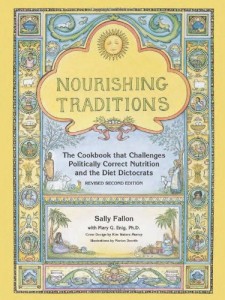 Nourishing Traditions, Sally Fallon Morell
This is the ultimate traditional food cookbook based on the teachings of Weston Price and the nutritional research supported by the organization. This cookbook includes recipes for fermented foods, nutrient-dense bone broths, organ meats and so much more. Every "real food" home should have this cookbook! Click here to get the book.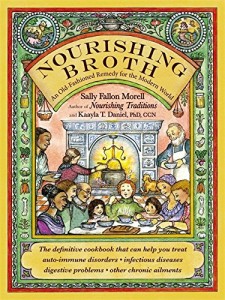 Nourishing Broth, Sally Fallon Morell & Kaayla Daniel, PhD, CCN
This book and cookbook is a continuation of Nourishing Traditions and goes into much more detail about the health benefits of making bone broths, especially for gut health and related health issues. There are also a ton of fantastic broth recipes and methods in this book. Click here to get the book.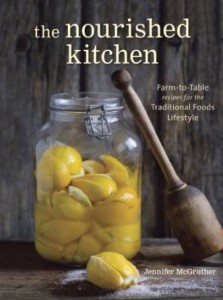 Nourished Kitchen, Jennifer McGruther
The Nourished Kitchen blog is one of the most popular traditional food blogs based on the teachings of the Weston A. Price Foundation. Nourished Kitchen features 175 recipes based on the "traditional foods" philosophy of eating, which emphasizes whole grains, dairy, red meat, organ meats, and fermented foods. The stunning pictures are an added bonus. Click here to get the book. 
Specific Carbohydrate Diet
(From the Special Carbohydrate Diet/Breaking the Vicious Cycle website🙂
The Specific Carbohydrate Diet™ has helped many thousands of people with various forms of bowel disease and other ailments vastly improve their quality of life. In many cases people consider themselves cured. It is a diet intended mainly for Crohn's disease, ulcerative colitis, celiac disease, diverticulitis, cystic fibrosis and chronic diarrhea. However it is a very healthy, balanced and safe diet that has health benefits for everyone. The foods that are allowed on the Specific Carbohydrate Diet™ are based on the chemical structure of these foods. Carbohydrates are classified by their molecular structure.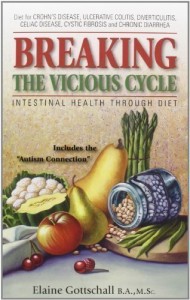 Breaking the Vicious Cycle- Intestinal Health Through Diet, Elaine Gottschall
Breaking the Vicious Cycle was written by Elaine Gottschall, biochemist and cell biologist. It provides an alternative way to help combat digestive disorders using dietary changes; and also a practical book that addresses the problems of intestinal conditions such as: Crohn's Disease, Ulcerative Colitis, Diverticulitis, Celiac Disease as well as less severe complaints like: indigestion, "nervous stomach", chronic diarrhea & spastic colon. Click here to get the book.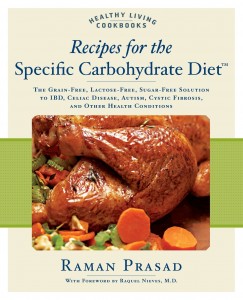 Recipes for the Special Carbohydrate Diet, Raman Prasad
The Specific Carbohydrate Diet (SCD) is a strict grain-free, lactose-free, and sucrose-free dietary regimen intended for those suffering from Crohn's disease and ulcerative colitis (both forms of IBD), celiac disease, IBS, cystic fibrosis, and autism. For those suffering from gastrointestinal illnesses, this book offers a method for easing symptoms and pain, and ultimately regaining health. Recipes for the Specific Carbohydrate Diet(TM) includes a diverse and delicious collection of 150 SCD-friendly recipes and more than 80 dairy-free recipes. Click here to get the cookbook.
Gut and Psychology Syndrome Diet GAPS
The Gut and Psychology Syndrome Diet has its foundation on the Specific Carbohydrate Diet. Dr. Natasha Campbell-McBride has taken the SCD and evolved it further to create the GAPS Diet, a full protocol for healing digestive disorders and subsequent issues.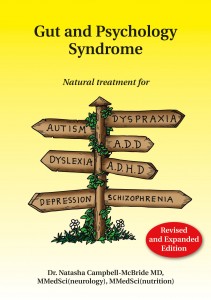 Gut and Psychology Syndrome: Natural Treatment for Autism, Dyspraxia, A.D.D., Dyslexia, A.D.H.D., Depression, Schizophrenia, Dr. Natasha Campbell-McBride, MD
Her book Gut and Psychology Syndrome captures her experience and knowledge, incorporating her most recent work. She believes that the link between learning disabilities, the food and drink that we take, and the condition of our digestive system is absolute, and the results of her work have supported her position on this subject. In her clinic, parents discuss all aspects of their child's condition, confident in the knowledge that they are not only talking to a professional but to a parent who has lived their experience. Her deep understanding of the challenges they face puts her advice in a class of its own. Click here to get the book.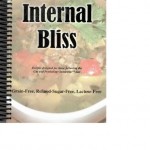 Gaps Cookbooks – Internal Bliss
The first cookbook created exclusively for the GAPS diet. Internal Bliss is a cookbook designed for individuals and families pursuing the difficult journey towards digestive healing. With the GAPS principles in mind, Internal Bliss provides recipes that will satisfy all palates. Click here to get the book.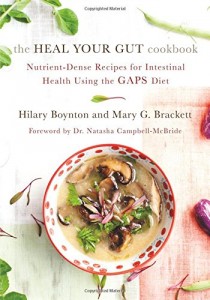 The Heal Your Gut Cookbook: Nutrient-Dense Recipes for Intestinal Health Using the GAPS Diet, by Hilary Boynton and Mary G. Brackett
With more than two hundred straightforward, nutrient-dense, and appealing recipes, The Heal Your Gut Cookbook was created by GAPS Diet experts Hilary Boynton and Mary G. Brackett to help heal your gut and to manage the illnesses that stem from it. In The Heal Your Gut Cookbook, readers will learn about the key cooking techniques and ingredients that form the backbone of the GAPS Diet: working with stocks and broths, soaking nuts and seeds, using coconut, and culturing raw dairy. The authors offer encouraging, real-life perspectives on the life-changing improvements to the health of their families by following this challenging, but powerful, diet. The GAPS Diet is designed to restore the balance between beneficial and pathogenic intestinal bacteria and seal the gut through the elimination of grains, processed foods, and refined sugars and the carefully sequenced reintroduction of nutrient-dense foods, including bone broths, raw cultured dairy, certain fermented vegetables, organic pastured eggs, organ meats, and more. The Heal Your Gut Cookbook is a must-have if you are following the GAPS Diet, considering the GAPS Diet, or simply looking to improve your digestive health and―by extension―your physical and mental well-being. Click here to get the book.
Auto-Immune Paleo
The Paleo Approach, Sarah Ballantyne, Ph.D.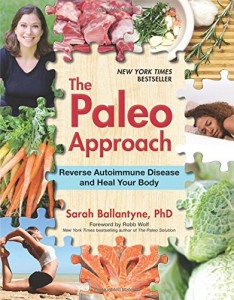 In this groundbreaking book, Sarah D. Ballantyne, Ph.D., draws upon current medical research and her own battle with an autoimmune disorder to show you how you can become completely symptom-free—the natural way. The Paleo Approach is the first book ever to explain how to adapt the Paleo diet and lifestyle to bring about a full recovery. Click here to get the book.
*Click here to get The Paleo Approach Cookbook!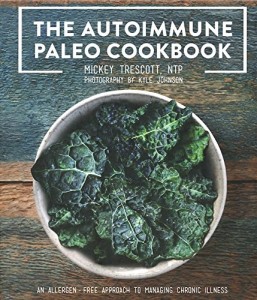 The Auto Immune Paleo Cookbook, Mickey Trescott, NTP
In The Autoimmune Paleo Cookbook, Mickey Trescott provides a resource for those looking to embark on the Autoimmune Protocol–a version of an ancestral diet that is focused both on removing potential food triggers as well as healing the gut. Research shows there is a clear connection between diet and autoimmune disease, and many, including the author, have used these principles to heal their bodies from these debilitating conditions and their accompanying symptoms. With the information and recipes in this book, you can embark on this process for yourself–without suffering through bland and tasteless "allergen-free" meals. Instead, with all of the incredible food you will be enjoying, you may forget that you are achieving better wellness! Click here to get the book.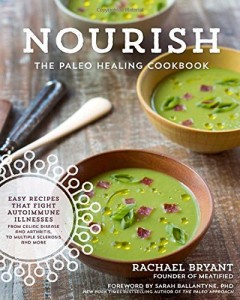 Nourish: The Paleo Healing Cookbook, Rachael Bryant
Following the Paleo Autoimmune Protocol can reduce inflammation and ease your autoimmune symptoms with every bite. With over 120 simple, tasty and nutrient-dense recipes, Nourish can help you heal your gut, regain your health and feel great. Click here to get the book. 
More Books On The Subject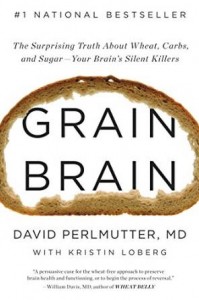 Grain Brain: The Surprising Truth about Wheat, Carbs, and Sugar–Your Brain's Silent Killers, David Perlmutter, MD
Renowned neurologist David Perlmutter, MD, blows the lid off a topic that's been buried in medical literature for far too long: carbs are destroying your brain. And not just unhealthy carbs, but even healthy ones like whole grains can cause dementia, ADHD, anxiety, chronic headaches, depression, and much more. Dr. Perlmutter explains what happens when the brain encounters common ingredients in your daily bread and fruit bowls, why your brain thrives on fat and cholesterol, and how you can spur the growth of new brain cells at any age. He offers an in-depth look at how we can take control of our "smart genes" through specific dietary choices and lifestyle habits, demonstrating how to remedy our most feared maladies without drugs. Click here to get the book.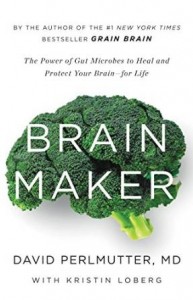 Brain Maker: The Power of Gut Microbes to Heal and Protect Your Brain–for Life, David Perlmutter, MD
Debilitating brain disorders are on the rise-from children diagnosed with autism and ADHD to adults developing dementia at younger ages than ever before. But a medical revolution is underway that can solve this problem: Astonishing new research is revealing that the health of your brain is, to an extraordinary degree, dictated by the state of your microbiome – the vast population of organisms that live in your body and outnumber your own cells ten to one. What's taking place in your intestines today is determining your risk for any number of brain-related conditions. In BRAIN MAKER, Dr. Perlmutter explains the potent interplay between intestinal microbes and the brain, describing how the microbiome develops from birth and evolves based on lifestyle choices, how it can become "sick," and how nurturing gut health through a few easy strategies can alter your brain's destiny for the better. With simple dietary recommendations and a highly practical program of six steps to improving gut ecology, BRAIN MAKER opens the door to unprecedented brain health potential. Click here to get the book.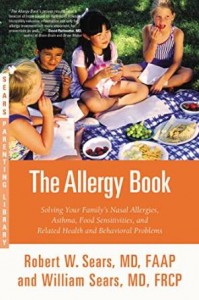 The Allergy Book: Solving Your Family's Nasal Allergies, Asthma, Food Sensitivities, and Related Health and Behavioral Problems, Robert W. Sears, MD, and William Sears, MD
Allergies are one of the most common ailments, causing children to miss school and parents to miss work. Left untreated or unresolved, stuffy noses, itchy skin, and irritated bellies can lead to chronic asthma, eczema, inflammatory bowel disease, and neurological disorders. Drs. Robert and William Sears present a science-based approach that has helped alleviate allergies in many of their patients, providing a plan not only for treatment, but also for prevention. A family-friendly resource, THE ALLERGY BOOK offers all the reassurance and accessible, practical advice that parents need to resolve their children's allergies, now and throughout their lives. Click here to get the book.
Natural Remedies and Supplements for Gut Health
The best foods to consume to help heal the gut are:
L-Glutamine and/or "IPS" by Biotics Research
L-Glutamine is often indicated as an essential nutrient needed for gut health and gut repair. Biotics Research has a fantastic gut-healing supplement called "IPS", which stands for "Intestinal Permeability Support". I have success with this supplement both in adults and children, by pouring the contents of the capsules into smoothies or other foods for the children. Click here to learn more about IPS.
Probiotic
I recommend a specific probiotic (please contact me to inquire about it) Probiotic Defense Formula is a proprietary blend of pre-biotic fiber and six strains of probiotic microorganisms in a unique double-layer vegetable capsule delivering 5 billion CFUs of active probiotic cultures and soluble pre-biotic FOS (fructo-oligosaccharides) that encourages culture adhesion and growth. The time-release double-capsule delivery system protects sensitive probiotic cultures from stomach acid.
Nutritional Therapy Consultations
If you are still looking for help with gut health issues and gut repair programs, I encourage you to contact me about a Nutritional Therapy Consultation. There are many testing tools and therapy options Nutritional Therapy Practitioners are trained to use for gut repair and gastrointestinal healing. If you believe you need more attention than what is in this post, then learn more about setting up a consultation with me.