But the fruit of the Spirit is love, joy, peace, forbearance, kindness, goodness, faithfulness, gentleness and self-control. Against such things there is no law. Galations 5:22-23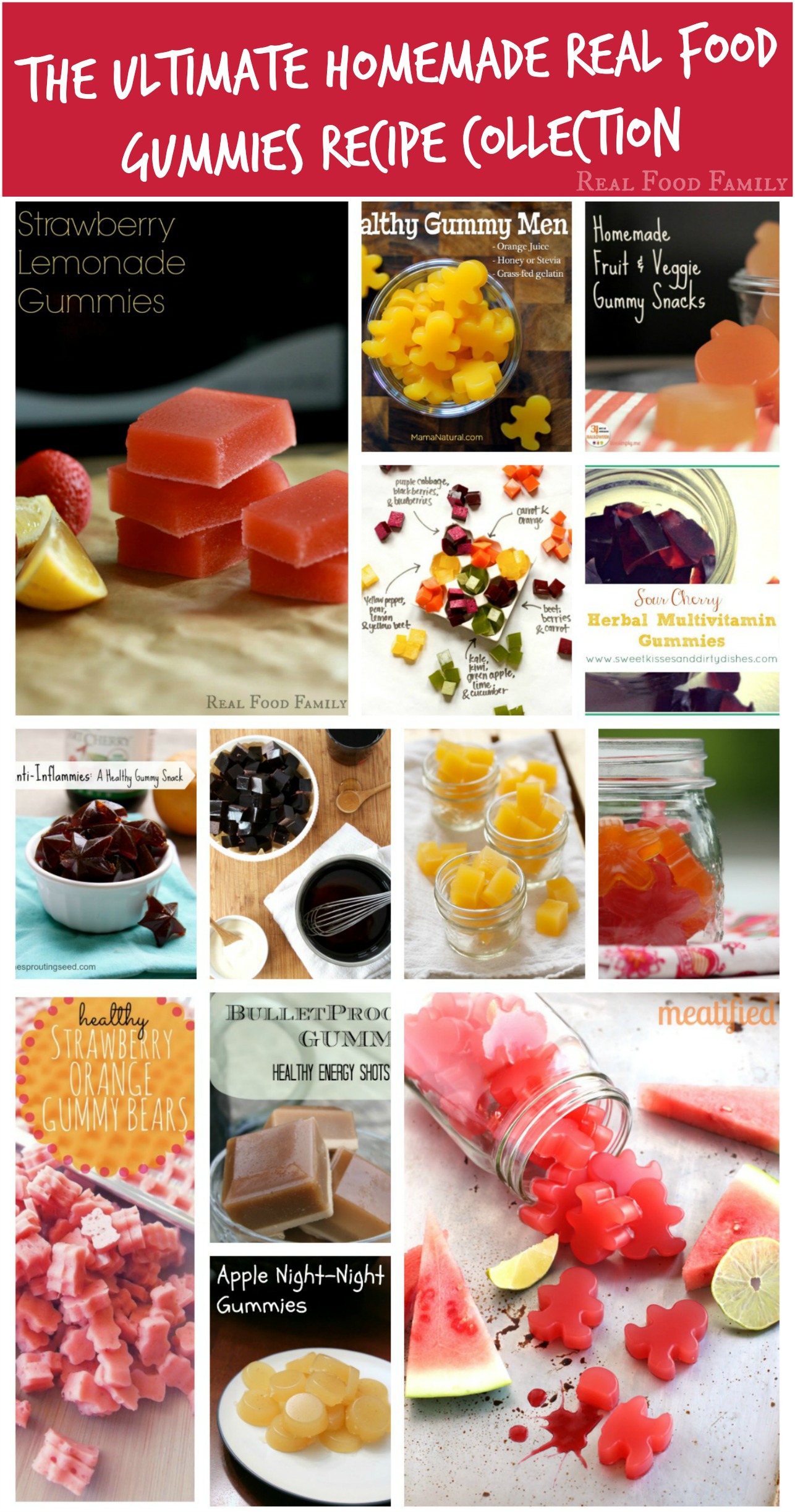 Homemade gummy snacks and jello can be super healthy, unlike the store-bought, artificial-everything gummy snacks and Jell-O you find in the market. The healthy elements of homemade gummy and jelly snacks are mainly in the gelatin and the real foods like fruit and veggies that you can use for flavoring. Some people even make gummies and jello out of herbs, elderberry syrup, kombucha, coconut milk, coffee and even wine! As long as you master a delicious syrup or juice base, then add the right amount of gelatin, the possibilities are endless! I recommend starting with the recipes listed as you get used to different methods and measurements. Once you get good at it, venture out on your own and make up your own recipes! (Don't forget to share your creations with us in the comments!)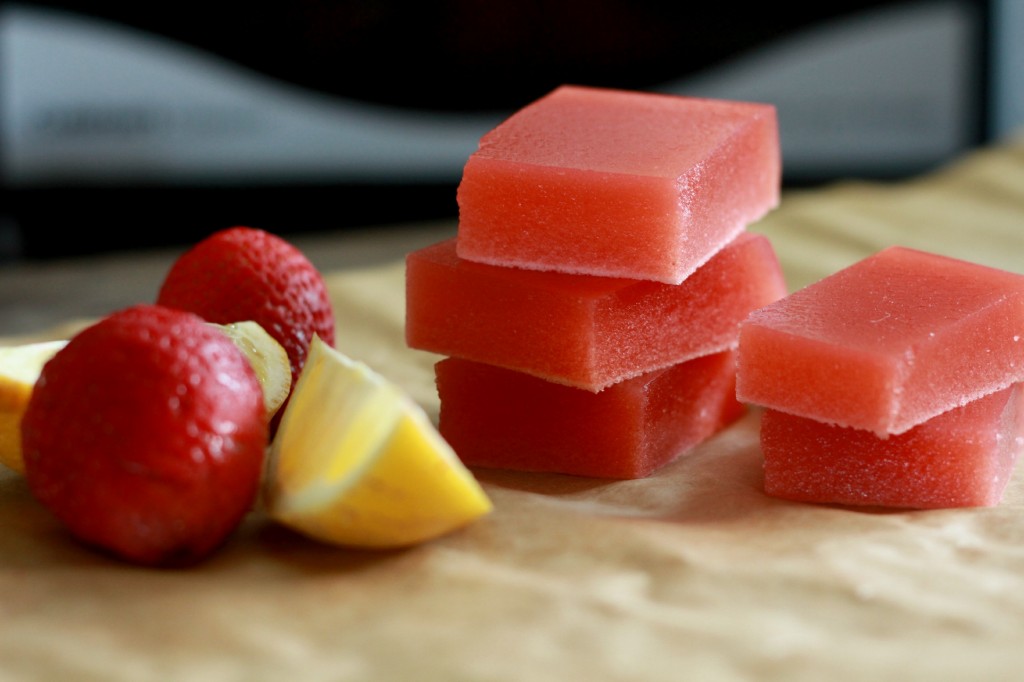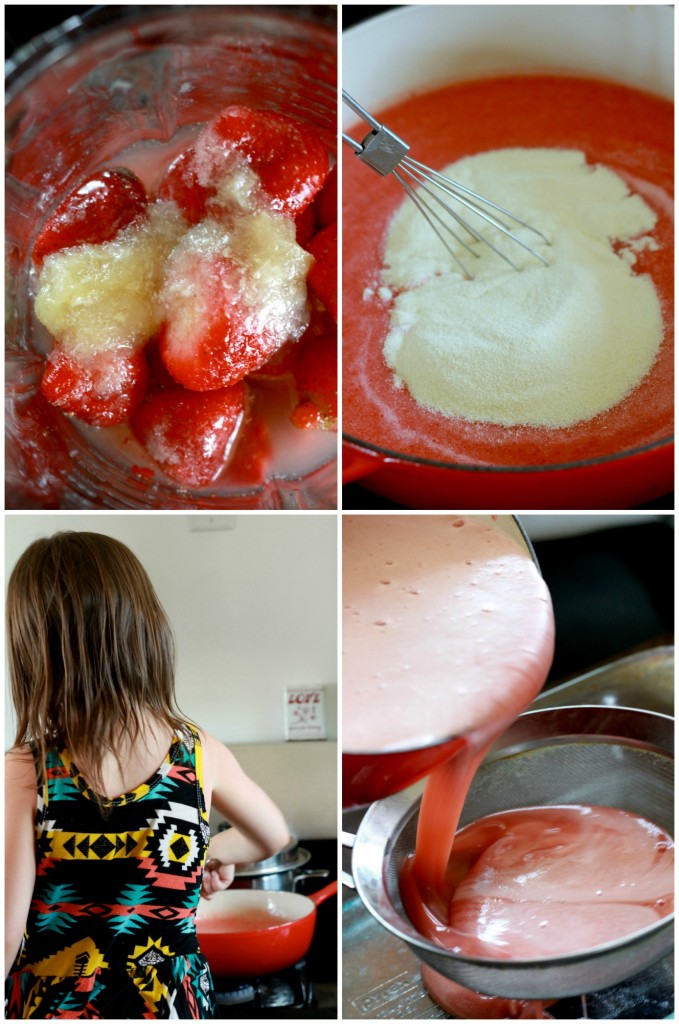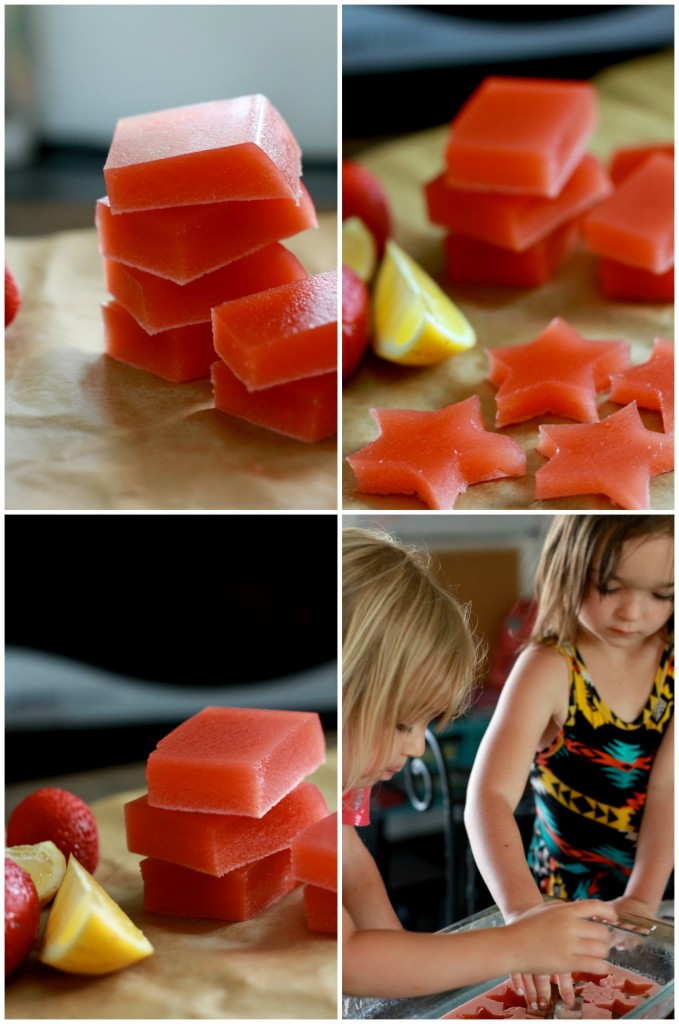 Gelatin
Gelatin from grass-fed cows is a traditional foods super star with many amazing qualities including:
Collagen occurs naturally in gelatin which nourishes and strengthens bones, joints, cartilage, skin and blood vessels
Helps the body absorb essential proteins
Aids in digestion and calms the digestive tract
Balances stomach acid
Helps the body absorb vitamins and minerals (because of stomach acid balancing)
Lowers inflammation
(source)
Recipes
1. Real Food Family: Strawberry Lemonade Gummies

Strawberry Lemonade Gummies

Ingredients

2 cups strawberries (frozen or fresh)
1/2 cup frozen lemonade concentrate OR 2 cups pre-made lemonade
(1-1 1/2 cups water to dilute lemonade concentrate- if you used that, add according to desired sweetness)
6-8 tablespoons Great Lakes gelatin powder *
*Use less to make it more like Jell-O and more to make it tougher

Instructions

Puree the strawberries with the lemonade concentrate (or pre-made lemonade) and add enough water to make the mixture sweet but not syrupy. You should have 4 1/2-5 cups of smooth pureed strawberry lemonade.
Transfer the pureed strawberry lemonade to a saucepan and heat it until it is just too hot to keep your finger in it. Do not boil or simmer the mixture. Measure the gelatin out into a small bowl. While whisking vigorously, slowly pour the gelatin into the strawberry lemonade mixture. Whisk until the mixture is smooth, with not lumps of gelatin. *You may wish to use a sieve to strain out any gelatin chunks or large seeds at this point. Pour the mixture into molds (like these) or into a large refrigerator-safe dish. (I use a basic pyrex baking dish.)
Refrigerate the mixture until it sets into a firm gummy-like texture or thick jello texture. Pop the snacks out of the molds, or slice into pieces if you used a large dish, and serve! Keep refrigerated for up to a week and serve cold. (They can be packed in a lunch box for a few hours if it doesn't get too hot, but they just might be a little more giggly than right out of the refrigerator.)

https://realfoodfamily.com/the-ultimate-homemade-real-food-gummies-recipe-collection/

2. Meatified: Sour Watermelon Gummies
*How adorable is that little headless guy with the "juice" coming out in that photo?! 😉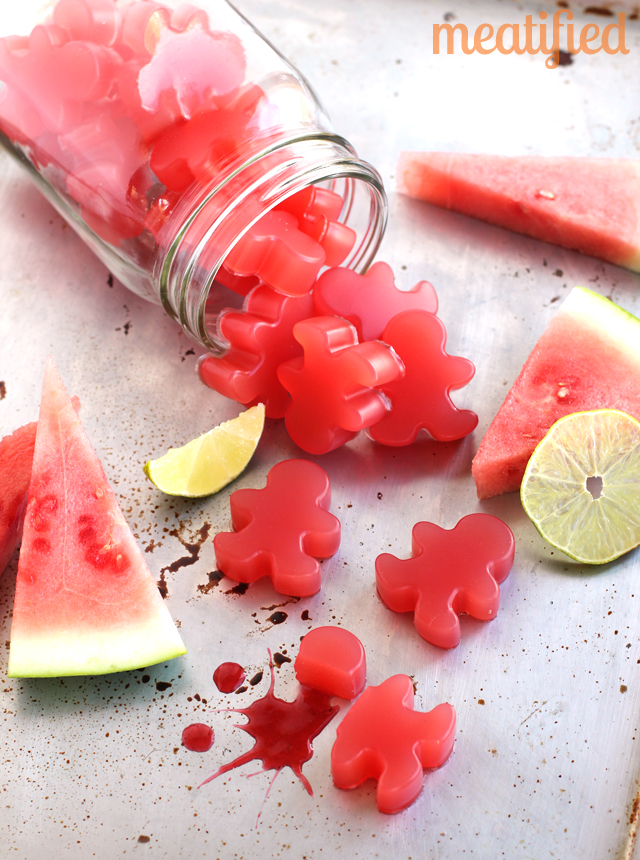 And for the adults only…
Have a special homemade gummies recipe of your own? I always find more gorgeous recipes I want to add to this post, so if I missed your post, let me know and I'll add it here!! Leave your recipe or link in the comments!
PS- If you're not into gummies but want the benefits of gelatin, try making my Homemade Chicken Stock or use this kind of gelatin powder that is cold water soluble and doesn't gel by adding to smoothies or other foods like a protein powder.